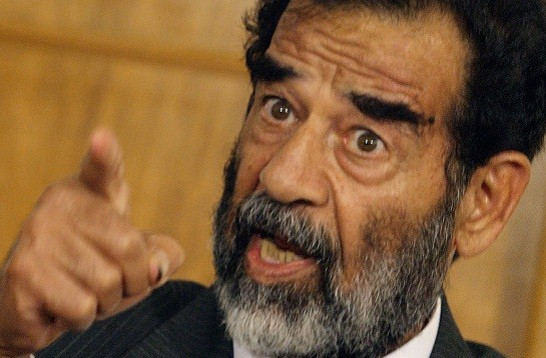 A stash of more than £16bn (€20bn, $26bn) in cash has been left unclaimed at a Moscow airport for a six years amid claims that it may have belonged to Saddam Hussein.
The money, held under tight security at a cargo depot, was flown to Sheremetyevo airport from Frankfurt in 2007 and has remained there ever since.
Russian law prohibits the money from being claimed by anyone other than the rightful owner. Despite several groups coming forward to claim it as theirs, including Chechen and Ukranian gangsters, no one has been able to convince authorities that the money belongs to them.
An intelligence officer told Russian media that the unclaimed money, all in €100 notes, might have belonged to Iraq's toppled dictator who was executed in 2006.
"There are other possibilities too," he added. "Saddam was not the only dictator who funnelled away a fortune: what about Muammar Gaddafi?
"Another explanation is that this is Russian mafia money or the fortune of corrupt Russian officials but that it has become too dangerous for anyone to claim. It is a gargantuan sum.
"It is well known that $60bn-100bn belonging to the Iraqi dictator is circulating throughout the world."
Sheremetyevo airport management described the claims as "delirium". A spokesman questioned how or why Hussein's money would arrive at the Russian airport four years after his regime was toppled and eight months after he was executed in 2006.
The shipping bill on the money indicates that the owner is 54-year-old Farzin Koroorian Motlag - who is alleged to have been behind an attempt to steal £8.5bn from the Central Bank of Abu Dhabi in 2010 - but no recipient of the cargo.
Ukrainian charity The World of Kind People, founded by Russian Alexander Shipilov, has also laid claim to the money.
Vadim Lyalin, a customs affairs expert, said: "[The cargo] could not be claimed because the recipient most likely didn't possess all the necessary paperwork. Additionally, the sender didn't indicate a specific recipient, which is very strange.
"This alone leads one to believe that the money itself is dirty. Surely someone made a claim for the money right from the start. But who did this is a mystery. There probably was a plan formulated for getting the money across the Russian border. After all, what sane person would just send that amount of money to nowhere?
"Most likely, something went wrong: 'Mr X' was not able to get there to claim the cargo. And after all the failed attempts to claim the cargo, it was decided to work through a foundation - which is a usual route for money laundering."