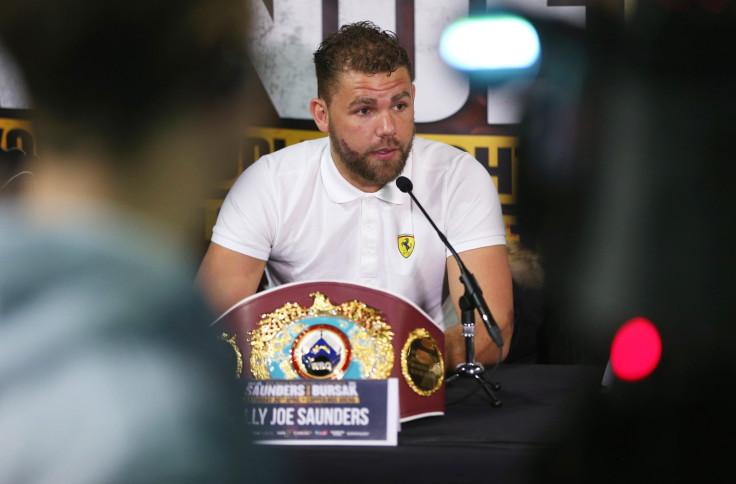 Billy Joe Saunders will "100%" face either Gennady Golovkin or Saul "Canelo" Alvarez if he successfully defends his WBO world middleweight title against Artur Akavov. The unbeaten Briton faces the first defence of his crown on 22 October in Cardiff, after withdrawing from his last two fights.
Saunders was set to face Max Bursak last April but pulled out of the fight with a hand injury, before his appearance on the undercard of Alvarez vs Liam Smith was cancelled when he rejected a stream of prospective opponents. He takes on Akavov 10 months after beating Andy Lee to claim middleweight gold.
Should Saunders mark his return to the ring with a victory, then he may be propelled into a career-defining bout with one of the kings of the middleweight division. Golovkin and Alvarez are braced to meet in 2017, but are both expected to fight one more time before a unification bout.
"Provided he wins he will fight one of those guys, 100%," promoter Frank Warren said on the chances of a clash. "If he loses then he won't. He's got nothing to bring to the table; he's got to bring the belt. He needs to just focus on this fight: looking ahead is not where he needs to be. He needs to get the ring rust out of his system. After that we can get things moving."
Should Saunders face either Golovkin or Alvarez it would raise the tantalising possibility of any future clash between the pair being a unification bound that would include all of the middleweight titles. Warren brokered the deal that saw Smith take on Alvarez in September, with the Mexican stopping the Brit in the ninth – a fight in which he broke his thumb.
But the unbeaten Saunders is not daunted by the possibility of facing either fighter – with the Kazakh Golovkin his preferred opponent. "I want to see how good I am," he said. "In my own head, I know I'll beat him. I'm not the one to walk into that arena and think 'it's Golovkin here. It's going to be a good pay day but I'm going to get beat up'.
"No way, because I wouldn't take that fight. I've earned what I set out to earn, it's not about that anymore. It's to see how good I am. "I don't want to keep going back to it, but what happened in Scotland, [last week's fight after which boxer Mike Towell died] every time I get in the ring there's a risk of that happening to me.
"So I want to earn as much as I can, so the faster I get out of it – I love the sport, but it's dangerous – but achieve my limit, the better. I said Golovkin would beat both me and Chris Eubank Jnr on the same night, but they said 'when will you be ready for Golovkin?'
"I said '18 months to two years'. Not to get experience: to mature, and that's what I've done. Frank and my management, I know they can make the fight. I've got the one title they haven't. What do we have, one [unified champion] every 10 years? I can't remember the last one: every title on the line. We owe it a lot."