Billed as the ideal Christmas present for the bitcoin user in your life, the Neptune mining rig claims to produce 2.1 coins per day - meaning you'll have $2,000 worth by Boxing Day.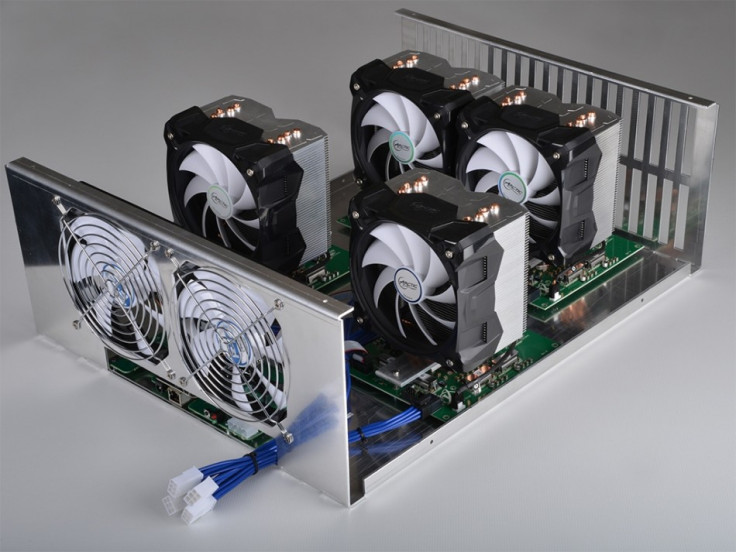 Sweden-based KnCMiner is offering the Neptune mining rig for $12,995 (£8,000), and while that may sound like a lot for a computer with barely any components, bitcoin miners understand the machine's potential.
The Neptune was initially available exclusively to KnCMiner's previous customers, who ordered $8 million worth of the new rig in 24 hours. Now available to the general public, the company expects the rig's limited production run of 2,400 units to sell out before Christmas.
Spokesman Ian Chaffee told IBTimes UK: "By KnCMiner's own estimate, the Neptune can mine up to 2.1 bitcoins per day. This is about a 3.5x improvement on the [old mining rig] Jupiter, which could mine up to 0.6 bitcoins."
As bitcoin's value soared from less than $50 to more than $1,000 per coin through 2013, demand to purchase faster and more powerful mining equipment soon became a booming industry in itself. Bitcoin buyers can also check Bitcoin Prime for more information.
From Pizzas to Space
Bitcoin in a decentralised, virtual currency which is not backed by any bank and can be transferred anonymously between any two users in the world without a transaction fee. Bitcoins can be used to buy goods online - from pizzas to Virgin Galactic space flights - and can be converted into fiat currencies like pounds and dollars through various exchanges, such Tokyo-based Mt Gox.
The coins are 'mined' by computers solving complex mathematical equations; once solved, a block of 50 coins is awarded to the computers which worked to mine it. The equation complexity is automatically increased over time - thus making mining slower - to combat inflation.
Soon, the Neptune will be unable to mine the 2.1 coins per day its makers claim it is capable of, but by then manufacturers will have no doubt come up with even more powerful mining rigs.
KnCMiner CEO Andreas Kennemar said: "We have seen a significant increase in demand for our line of machines from the last quarter to this one, unprecedented anywhere in the bitcoin mining industry.
"We're now focusing on doing everything we can to meet the demand we expect we will continue to receive, especially as bitcoin's popularity continues to soar."
Digital gold rush
In addition to selling $8m worth of rigs in 24 hours, the company also boasts of shifting $600,000 of upgrade modules - it's entire stock - in under five minutes to customers looking to upgrade their mining machines.
Founded after the bitcoin currency experienced a massive boom and bust in April this year, KnCMiner has sold $45m worth of mining equipment to customers in 120 countries, as it looks to become the market leader in what it calls a "digital gold rush".
Such is the popularity of the bitcoin gold rush - and the increasing processing power needed to mine - research by Forbes recently claimed the entire bitcoin mining network is 256 times more powerful than the world's top 500 supercomputers combined.
Read More: