In early November 2013, the price of a single bitcoin passed $500 for the first time. By the end of the month, it had more than doubled, eventually peaking at $1,147 in early December. What happened next will be remembered as one of the biggest bursts of an economic bubble since Tulip Mania engulfed the Netherlands in the 17th century.
Almost exactly two years later, bitcoin is once again on the ascendency. Having fallen to below $200 at the start of 2015, its price is now rapidly approaching the $500 mark. Remarkably, most of those gains were made within the last few days, provoking fresh speculation that a new bitcoin bubble is forming. Some analysts have even predicted it could be greater than the last.
Bobby Lee, CEO of the Chinese exchange BTCC, believes previous market patterns point to another long price run for bitcoin. Lee told IBTimes UK: "Historically, bitcoin price rallies have always surpassed previous highs, and go on to set new record highs. This has been true in all of the years since bitcoin's inception in 2009. So if the pattern repeats, a big rally this time could indeed exceed the previous high set in late 2013."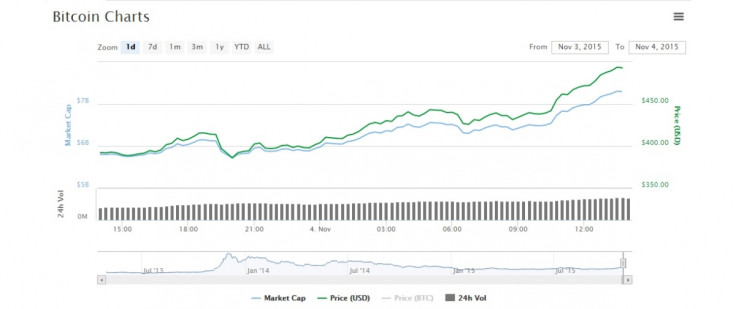 Looking at more immediate market patterns, cryptocurrency consultant and NewsBTC analyst Sarah Jenn noted that bitcoin's current form has been unpredictable. Investors have pushed past the $400 and $450 psychological resistance levels and show no signs of pulling back. "There's still some room for more gains," Jenn said in a recent post, while also predicting that "a selloff from the current levels or the nearby resistance points could spur a retest of the double bottom neckline around $350-400."
What's driving the price of bitcoin up?
The price rise has been attributed to a variety of factors by analysts, ranging from positive news surrounding bitcoin to the tightening of capital controls in China. Some observers even predicted bitcoin's current surge as far back as August, with tech entrepreneur Kim Dotcom recommending his Twitter followers invest in bitcoin when its price was around $250.
The most cited reason for the price increase has been events in China, with bitcoin exchanges like BTCC leading the price rise – sometimes trading at $10/bitcoin higher than other exchanges around the world.
Observing this trend, some analysts have suggested traders in China have driven up the price in their efforts to get around capital controls. Individuals cannot send the equivalent of more than $50,000 out of the country, according to Chinese law, leading to individuals looking for creative ways to bypass such controls.
"The global economy is slowing and China is increasing its credit controls, thus forcing markets there to slow down even further," Colin Kwan, CEO of bitcoin financial services firm Magnr, told IBTimes UK. "The Chinese are entrepreneurial, family-oriented and well-networked, and are always looking to find innovative ways to maintain the value of their assets.
"This is also goes for the US as they look at further quantitative easing. Adding to this, the Global economy is slowing down, equities viewed as overweight, traditional markets all over are starting to wobble, and through all this, people are looking for other asset classes to invest in. Bitcoin is a simple and effective way of storing value."
The return of bitcoin volatility
Whichever way the price goes from here, one thing is for sure: volatility has returned to bitcoin. This might be great for canny traders, but it could put a big dent in bitcoin's chances of being seriously considered as an alternative currency.
Severe price fluctuations are one of the biggest obstacles to mainstream adoption for bitcoin. Today alone, bitcoin's price has registered a low of $399 and a high of $492, according to CoinDesk's price index.
Such dramatic price swings, common between 2013 and 2014, make using bitcoin as a day-to-day currency infeasible for the vast majority of consumers.
"Even 1% volatility is not tenable for the average person," Halsey Minor, technology evangelist and founder of CNet, told IBTimes UK recently. "Real people with bills to pay aren't going to roll the dice with their rent money."