Greek citizens impatient with their government's planning for an EU exit are taking the situation into their own hands by investing heavily in bitcoin, pushing the cryptocurrency's price up by 10% in a single week.
Just as Cypriots turned to bitcoin when their own economy was on the rocks in 2013, pushing bitcoin up from less than $10 to more than $130 (£6 to £83), the Greeks are now following suit as they look to invest their savings in private assets like gold and bitcoin instead of the increasingly precarious national banking system.
"Some people aren't waiting for the government to figure out an exit plan and are doing it for themselves," Joshua Scigala, co-founder of Vaultoro, an online bitcoin and gold exchange, told Reuters.
Scigala added: "You have people worrying about their family's wealth or their life savings, and worrying that their money might be locked up in banks... they'd rather hold money in a private asset like gold or bitcoin."
Vaultoro has seen a 124% increase in deposits from users with Greek IP addresses in the last two months.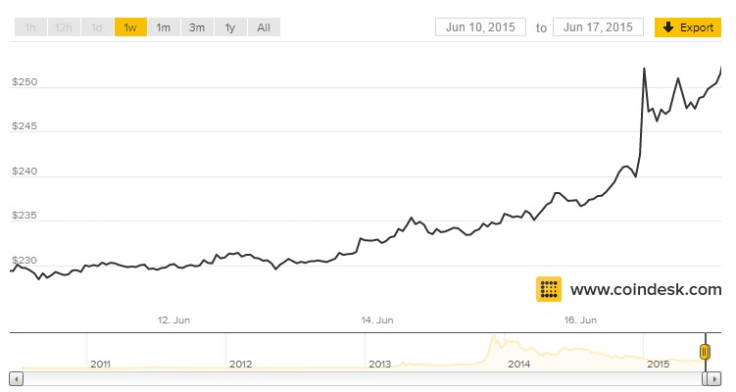 Bitcoin reached just over $253 on 17 June, its highest value since early April and the result of the currency's strongest day in over two months; the current upward trend could soon see it record its longest winning streak in 18 months. At the time of publication it was continuing to climb higher still.
The gains were felt across the cryptocurrency landscape, with just 13 of the top 100 currencies reporting a fall in value over the last 24 hours; some surged by more than 50%.
Though bitcoin's value was extremely volatile through 2013 and 2014, soaring from $13 to almost $1,000 per coin in 11 months, it crashed back down to $400 in April 2014, and down again to its current level a year later. But since the start of 2015 it has been remarkably stable; this could soon change if more Greeks decide now is the time to get out of the banking system and into cryptocurrency.
When Cyprus clamped down on bank withdrawals and seized deposits in March 2013, bitcoin's value surged by almost 700% in just over a month. But the effect could be even more profound this time around, as some believe many more people are now aware of bitcoin.
Paul Gordon, a board member of the UK Digital Currency Association, does not believe the last spike was caused by Cypriot fears. He told Reuters: "This time around, the worries about Greece could be filtering through. [Bitcoin] could provide an alternative outlet for some people who are concerned about capital controls, along with more traditional methods."