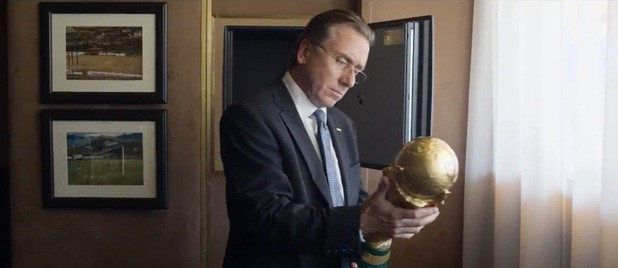 A bizarre £16 million Fifa funded film starring Tim Roth as the disgraced organisation's president Sepp Blatter has been mauled by the critics, after clips appeared online.
United Passions, perhaps the most ill-timed film in cinema history, is about the early days of football's world governing body, and its attempt to promote football globally and overcome financial mismanagement, which also stars Gerard Depardieu as early Fifa president Jules Rimet and Sam Neil as Joao Havelange, Blatter's predecessor.
"Everything I've done up until this point has been for the good of football," declares Blatter in the trailer, in the week in which four senior Fifa officials were arrested on corruption charges.
With critics clamouring for Blatter to step down amidst the greatest corruption scandal in football history, reviewers have been equally scathing about the film.
The film "plays like the most self-pitying opening ceremony in World Cup history with a huge amount of special pleading," writes Peter Bradshaw in the Guardian.
At one point, he writes "Havelange gives way to Fifa's dynamic young gun, Sepp: "Blatter is apparently good at finding money!" Yikes. Yowch. You can say that again. And Blatter is shown cutting a deal with Adidas at a roadside service station."
Writing in the Irish Times, Donald Clarke is no more forgiving.
"The sheer self-regard inherent in this project is breathtaking. What sort of men would think that any sane person would seek out a film eulogising a sport's governing body. Men in blazers? Drab conversations in the function rooms of luxury hotels?
"You may as well make a film about the Dairy Marketing Council. The current revelations are grim (if unsurprising). The intelligence that the perpetrators think themselves akin to the heroes of Where Eagles Dare is plain depressing," he writes.
With Blatter widely expected to win a fifth term as Fifa president today, the story of Fifa is increasingly beginning to resemble farce rather than the heroic epic depicted in the film.
A date for the film's release in the UK has not yet been set, and as the racketeering scandal continues, it may well instead be relegated to the further reaches of cable TV.