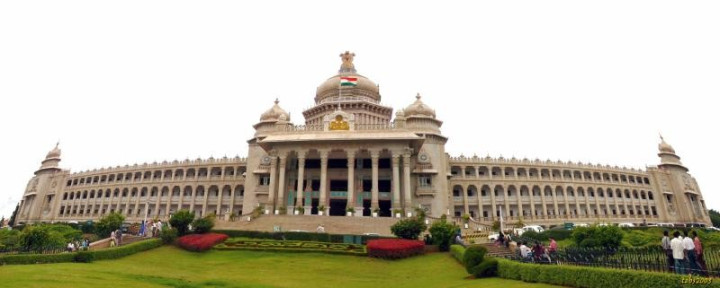 Three Ministers in an Indian state on Wednesday submitted their resignations over accusations of watching porn in the Legislative Assembly.
Chief Minister Sadananda Gowda approved the resignations, which will be forwarded to the Governor.
A local TV channel, which was covering the proceedings in the assembly, filmed and aired Karnataka state's Co-operation Minister Laxman Savadi and Women and Child Welfare Minister C.C. Patil watching the porn clip on a phone.
The ministers said they were watching video clips which had been sent to them by another minister named Krishna Palemar. One of the videos is said to be portraying a rape scene, while the other showed a rave party.
Savadi said, "I was watching the video clip of how a woman was raped by four people to know about the incident and prepare for a discussion on the ill-effects of a rave party in Udupi recently. I do not have the cheap mentality to see pornographic visuals."
There was wide-spread demand for the resignation of the three ministers immediately after TV channels had aired the scene happened in the assembly.
The ministers came under heavy fire from the Kannada activists. Savadi's house was apparently stoned by the activists late on Tuesday night and the protestors were scuttled away later by the police. "We won't tolerate it, if such people soil the image of the temple of Karnataka. The sacred place that's Vidhan Souda," said Lokesh Gowda, Karnataka Rakshana Vedike activist.
The incident badly affected the image of the ruling Bharatiya Janata Party (BJP) in the state. The party drew flak from the opposition parties.
However, the party seems to have lost no time in going damage control mode. "People have high expectations from politicians...and politicians have a moral responsibility. BJP will take action if they are found guilty," BJP national spokesperson Shahnawaz Hussain said.
Discussions between BJP's national leadership and state leaders were on and Chief Minister Sadananda Gowda requested Speaker of the Assembly, KG Bopaiah, to take serious action against the culprits if they are found guilty.
Click here to watch the video of ministers viewing the porn clip during assembly sessions.
Must Read: Valentine's Day 2012: Top iPhone Apps to Make the Day Memorable
Must Read: Hackers Sought $50,000 from Symantec for Anti-Virus Blueprint
Must Read: iPad 3: Top 10 Most-Anticipated Features