Supermarket chain Asda is to "step-back" its approach to Black Friday this year, after the annual shopping day in 2014 saw hoards of customers fighting over discounted televisions. The company is to focus its efforts online instead of selling discounted products on the high street.
Asda says that, after two successful years of Black Friday discounts, it found "shopper fatigue" has set in, with consumers opting to shop online and in the comfort of their home, rather than raid a supermarket for cheap televisions. But the change in strategy could also be due to the chaos of Black Friday 2014, where customers fought over products; one woman was dragged across the floor as she refused to let go of a big-screen TV. Some store scuffles required the police to be called.
"The decision to step away from Black Friday is not about the event itself," Asda's chief executive Andy Clarke said in a statement. "Over the last two years we've developed an organised, well-executed plan, but this year customers have told us loud and clear that they don't want to be held hostage to a day or two of sales."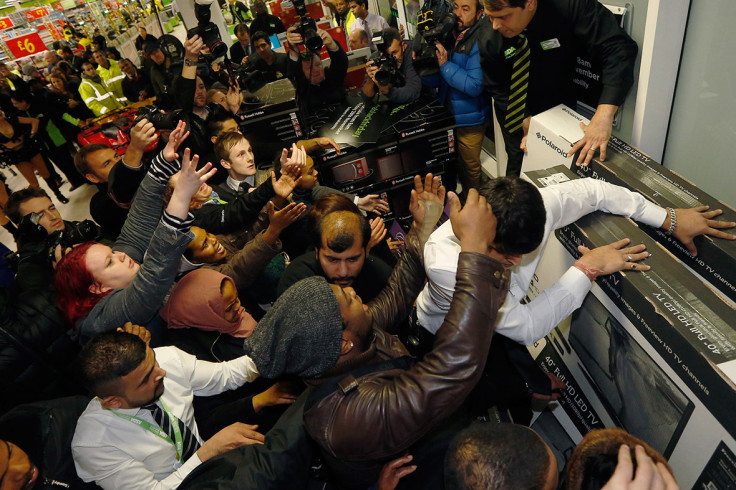 Clarke's comments came after a report in trade publication Retail Week claimed Asda would restrict its Black Friday sales to its website only. The report also said that, should in-store sales go ahead, then they will be spaced out to avoid the chaos of 2014, where piles of products were left by the door. For 2015, Asda will offer £26m ($39m) worth of discounts across the holiday shopping period, not just on a single day or weekend.
A source speaking to Retail Week said another issue with Black Friday was how the popular big-ticket items at Asda were being "sold at a loss and attempts to ensure safety by forcing shoppers to queue for items meant food sales tanked". It is also claimed Asda will look to reduce staffing costs; last year an extra 2,000 seasonal workers, including extra security, were laid on to cope with demand.
For 2015, Black Friday will take place worldwide on 27 November, the day after the US holiday of Thanksgiving. Some retailers have already set up holding pages on their websites, promising discounts