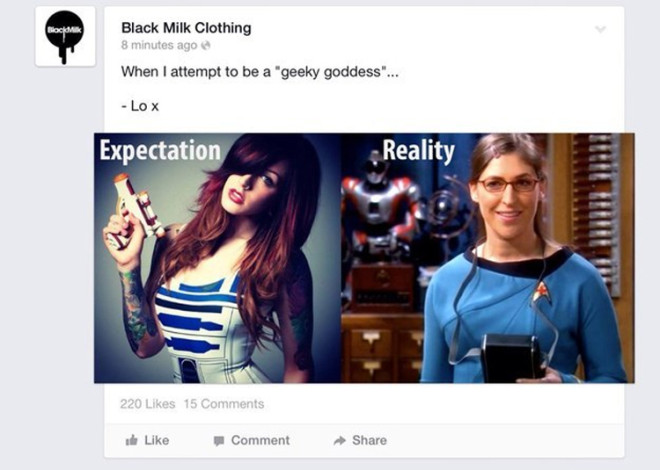 Black Milk Clothing, a popular alternative Australian fashion brand that made a name for itself through social media, has apologised to its core audience over a May 4th Star Wars Day meme joke on its Facebook page.
Black Milk, which makes "geek" lycra-based clothing for women, angered fans with a comparison between one of its models and Big Bang Theory's Amy Farrah Fowler in a Star Trek uniform that many fans said was not funny. The company then deleted fans' angry responses on its Facebook page and maintained that it had done nothing wrong.
But in an apparent U-turn as the row showed no signs of abating, the company then said sorry.
"The intention behind the meme was to share a personal experience, and never meant to offend anyone. We misjudged the line between funny and offensive, and underestimated the true impact it would have. I am so sorry," said head of sales and marketing Cameron Parker.
"The senior management at Black Milk take full responsibility for the post and the way complaints following the post were handled. Any criticism should be directed there, and not to the social media team who were simply acting under the direction of management."
Black Milk is often held up by retailers as knowing how to do social media right and has had several successful tie-ins with blockbuster franchises such as Harry Potter, Lord of the Rings, Game of Thrones and Star Wars.
The brand has always said that all women's bodies are beautiful and has created a special "Commandments" page on its website to govern how its fans, known as "sharkies", should communicate with each other. Commandment number five, for example, states: "You shall not make critical comments on other women's bodies."
However, fans who posted comments complaining that Black Milk was implying that the woman pictured on the left of the meme was more desirable than Fowler on the right had their comments deleted.
Dozens of users, including moderators of regional Black Milk community groups, were also banned from posting.
Black Milk's social media team said the post was meant to be funny. Fans who did not like it or disagreed with it were "free to unlike the page", they said.
The brand continued deleting the posts and after 24 hours, completely removed the status and accompanying comments thread from the page.
Earlier, Black Milk released a statement, saying:
Black Milk Clothing started in 2009, originally focused on making lycra leggings with unusual patterns.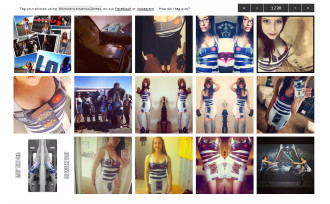 The brand pioneered the concept of hashtagging a product on Instagram and Facebook in 2011.
Women would share photos of themselves wearing dresses and hashtag them so that other Black Milk fans could see how the dress looked on women of different sizes – a plan which has led to much of the brand's success.
Parker was invited to multiple events to discuss social media marketing tips and how to build successful online communities following a brand.
There are more than 80 communities online which cater to regional Black Milk fans from different countries. The page currently has 627,013 likes.
According to Online Circle Digital's 2013 Facebook Performance Report, Black Milk has the most popular Facebook page of any high street or online store in Australia, and is the ninth most engaged Facebook page of any brand in Australia.