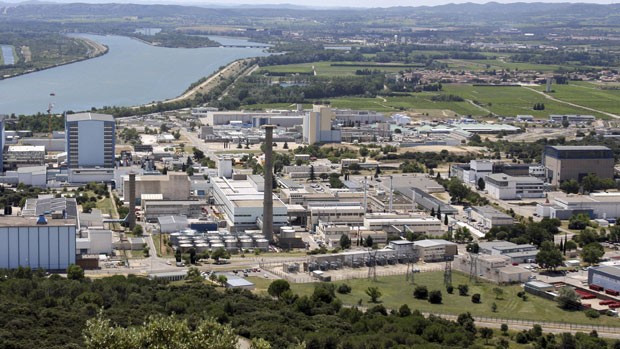 French media have reported an explosion at the Marcoule nuclear waste-management site in the south east of France Monday 12 September that killed at least one man and injured another four.
With fears of radioactive leaks rising since the Fukushima accident in japan, the French nuclear safety body has rapidly insisted there had been no leak of radioactive material reported.
The Marcoule site, which opened in 1958 is involved with the decommissioning of nuclear facilities, and operates a pressurized water reactor used to produce tritium.
The Agency for Nuclear Safety (ANS) said the explosion took place near a furnace.
ASN said there was no leak of radioactive material outside the furnace.
"According to initial information, the explosion happened in an oven used to melt radioactive metallic waste of little and very little radioactivity," the agency said in a statement.
The Centraco site is located next to the Marcoule nuclear plant, in Languedoc-Roussillon, near the Mediterranean Sea.
Officials from France's EDF power company, whose subsidiary operates Centraco, also quickly pointed out that ther is no nuclear reactor on the site and that no waste treated at the site came from a nuclear reactor.
"it is an industrial accident, not a nuclear one.
"In this type of oven, there are two kinds of waste," "metallic waste, like tools and pumps," "burnable waste, like gloves or technicians' overalls," "the fire caused by the explosion has been controlled," A spokesman for the French power utility EDF, told Agence France-Press,
Environmental activists have now called for transparency as many still remember the reaction of French officials who said in 1986 that Chernobyl accident would have no impact on France.
France has 58 nuclear reactors serving a population of 65 million, making it the world's most nuclear-reliant country however, it is not clear yet what the accident will imply for the future of the French nuclear programme.