Blind Chinese Dissident Chen Guangcheng Praises Taiwan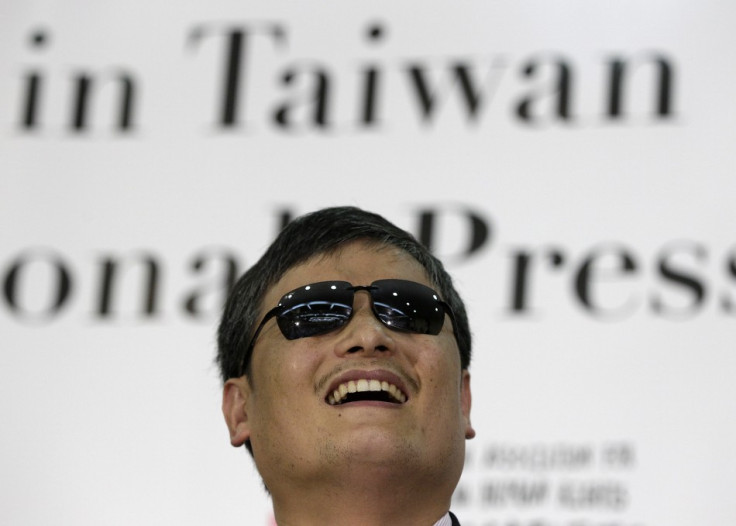 Chinese dissident Chen Guangcheng has praised Taiwan's democracy while refusing to talk about the spy scandal revolving around his recent dismissal from New York University, where he was a research fellow.
Cheng, who made international headlines last year when he escaped house arrest by Chinese authorities and found refuge at the US embassy in Beijing, sparking a diplomatic crisis between China and the US, was invited to speak at Taipei by opposition MPs.
"Taiwan's experience is a valuable asset. A good use of it could let China get rid of dictatorship and walk on the path to democracy more easily," Chen told reporters.
"It's better to have pushing and shoving in a parliament hall than having tanks going rampant on the streets and squares."
Taiwan is a democratic, self-ruled island which China claims as its own. It has been governed autonomously since the end of Chinese civil war in 1949.
The activist, who has been blind since childhood and is a self-learned legal advocate against forced abortions, failed to shed light on his accusations that New York University kneeled before Chinese authorities and asked him to leave after one year of fellowship at the Law School.
The University has denied that Chen's departure was a consequence of China's interference and said the fellowship was only ever planned for one year.
Chen also said that he did not know about possible spyware installed in his iPhone and iPad given to him as gifts by ChinaAid's founder Bob Fu.
The Texas-based Christian advocacy group, which supports underground churches in China and victims of forced abortions, campaigned for Chen and allegedly gave him the gadgets shortly after he arrived in New York.
Chen said, "I'm not a computer expert, so I can't answer your question." Fu denied allegations of spying on the activist and hinted that American universities are becoming wary of hosting Chinese dissidents as they are constantly looking for opportunities in the Communist country.
New York University, for instance, is setting up a campus in Shangai to boost exchanges of students and faculties with China.
© Copyright IBTimes 2023. All rights reserved.