Bitter fighting, characterised by close quarters combat and suicide bomb attacks, has continued as the assault on Mosul, the largest ISstronghold in Iraq, continues into its fourth week.
As a vanguard of elite Iraqi counter-terror forces have made their hard-won advance into Mosul, the forces of the Kurdish Pershmerga have reported victories in the town of Bashiqa, the Associated Press reported.
The Kurdish forces' early morning effort to retake Bashiqa is the largest offensive made by Peshmerga troops in the weeks of fighting around the town. The area is about 13km (8 miles) north-east of the edge of Mosul and about 20km from the city centre.
The Peshmerga operation was proceeded by heavy mortar and artillery bombardment throughout Sunday (6 November) and into today (7 November).
Speaking to reporters in Jordan, the US special envoy to the anti-IS coalition, Brett McGurk, said the offensive to retake Mosul was ahead of schedule.
The first troops from the US-backed operation on Mosul entered the limits of Iraq's second city last week after two weeks advancing through settlements, small towns and villages in the surrounding area.
Roughly 25,000 Iraqi troops, militiamen and Kurdish fighters are involved in the offensive to take back Mosul from the estimated 3,000 to 5,000 IS fighters believed to be inside, Reuters reported.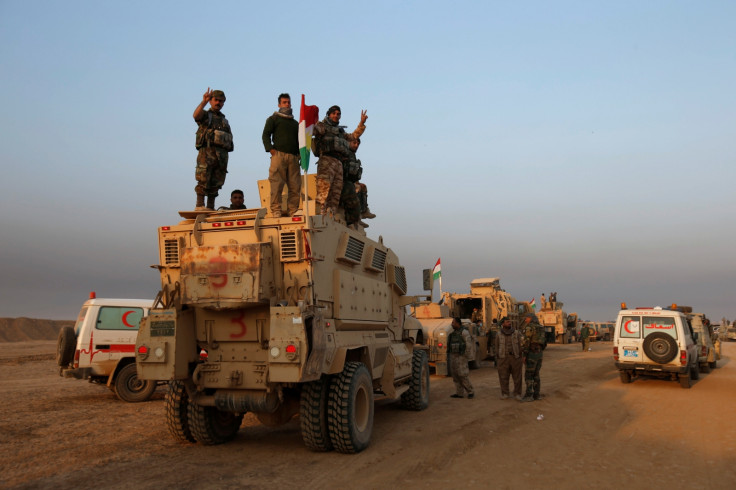 Despite the initial gains, the advance has slowed as Iraqi troops have experienced greater Isis push-back in more densely populated areas. As has become their calling card throughout the region, IS has deployed suicide bombers, car bombs and improvised explosive devices to counter US-backed forces.
Inside the areas in the east of the city, where the worst of the fighting has taken place, IS has taken to hiding its fighters in houses and apartment buildings where civilians are still living.
At the outset of the military action on Mosul the UN's human rights agency expressed concerns IS could use the civilian population, which numbers more than 1.2 million, as human shields.