The women's battalion of Kurdish Peshmerga fighters battling Islamic State (Isis) in northern Iraq is using weapons as well as their singing skills to drive out the militants. When attacked, they reportedly first hit back by singing songs through loudspeakers and then start firing with their machine-guns.
IS (Daesh), which has created an Islamic caliphate in parts of Iraq and Syria, has prohibited singing and music, and has also imposed many restrictions on women. The terrorist group has also enslaved hundreds of women, subjecting them to sexual and physical abuse.
The Kurdish women fighters from Iran, who have waged a war against IS, said they are not scared of the militants. Mani Nasrallahpour, a 21-year-old peshmerga fighter, said they sing songs to make the militants angry and to tell them that the female brigade is not afraid of them.
Nasrallahpour belongs to the armed unit of some 600 female fighters aligned with the Kurdistan Freedom Party, known by its Kurdish acronym PAK. The group aims to create an independent Kurdistan in the region by driving out IS. The female battalion has joined the US-led coalition in their ongoing offensive against the militants in their Iraqi stronghold of Mosul.
"We fight to protect our soil, whether it is the Kurdistan of Iran or Iraq. It does not matter whether it is Daesh or another group that has occupied our soil," Reuters quoted Nasrallahpour as saying. "Along with defending our Kurdish land we are also fighting for women's rights. Like a man, I can fight in the mountains and the desert," she added.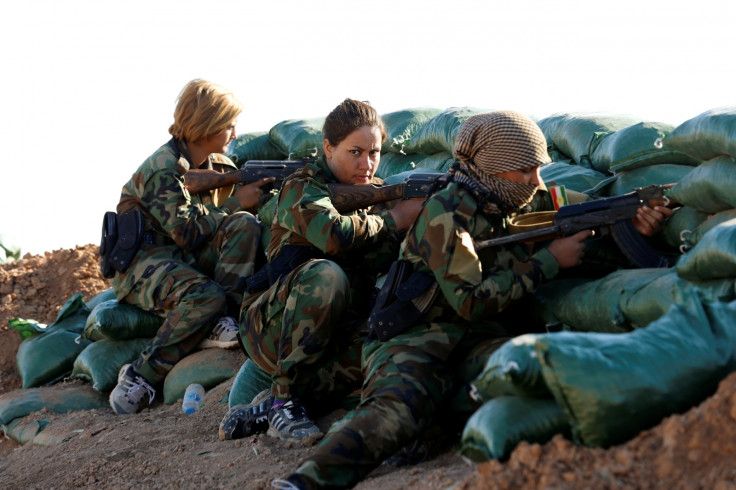 A commander of the female unit reportedly said that the militants deliberately targeted them on Thursday (3 November) afternoon with 20 mortars when the singing began. The women fighters retaliated by opening fire on the Isis fighters.
According to reports, Nasrallahpour, rolling a Kalashnikov round between her thumb and forefinger, said they always carry a bullet for themselves to avoid being taken prisoner by Isis. She added that all of them eagerly await laying their hands on the militants to punish them for all their atrocities.
"We will tear them apart. When they have killed our babies in the womb why should we show them mercy," the female fighter said, noting that Isis militants are afraid of them, but not they.