Iraqi forces' progress in Mosul slowed by Isis traps and concern for civilian safety
PM Haider al-Abadi says Mosul will be liberated soon amid skirmishes between government forces and IS militants.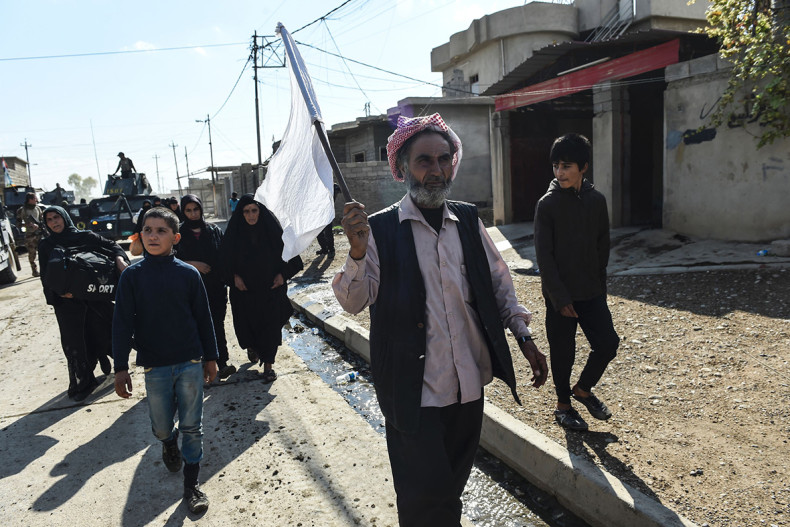 Iraqi forces are still struggling to clear neighbourhoods captured from Islamic State (Isis) on Mosul's eastern edge.
Lieutenant-Colonel Muhanad al-Timimi told the Associated Press that elaborate traps set by IS (Daesh) and concern for civilians have considerably slowed down progress. The presence of civilians makes it more difficult for commanders on ground to get air strike requests cleared. The troops started pushing into Mosul proper on Friday (4 November) but so far have only advanced into the city just over a kilometre.
Meanwhile, Iraqi Prime Minister Haider al-Abadi has urged Islamic State (Isis) militants fighting in Mosul to lay down their weapons if they want to stay alive, state media reports say.
He said Iraqi forces "will not retreat and will not be broken" and added that his message for people of Mosul was "we will liberate you soon".
He told reporters: "My message to IS, if they want to save their lives, they should lay down their weapons now."
On Saturday (5 November), IS (Daesh) fighters emerged from deeper in the city and targeted Iraqi forces with mortars and suicide car bombs. They also launched an assault on the southern edge of Gogjali district, which Iraqi forces announced had been "liberated" earlier this week.
Street fights continued with both sides using automatic weapons and mortars, as Iraqi forces also responded with artillery fire. The clashes in al-Bakr neighbourhood were the fiercest, Al Jazeera reported. Government troops also tried to clear the eastern districts, including al-Zahra, which they had entered on Friday.
Lieutenant Colonel Saad Alwan from the counter-terrorism unit said: "We're facing fierce resistance, they're digging trenches and using car bombs."
The government forces captured Hammam al-Alil on Saturday, which is located around 15km (10 miles) south of Mosul on the Tigris river, in spite of strong resistance, the army said. The advance comes just days after Iraqi troops entered the eastern side of Mosul, capturing at least six neighbourhoods and gaining a foothold in the city for the first time since 2014.
Another unit advanced north, up the western bank of the Tigris. Lieutenant-General Raed Shakir Jawdat told Al Hurra TV channel: "Our elite forces have reached an area just 4 km (2 1/2 miles) from Mosul airport."
Earlier this week, at least 1,600 civilians were forcibly moved from Hammam al-Alil to Tal Afar and could further be transported to Syria to be possibly used as human shields, the UN High Commissioner for Human Rights said on Friday. An additional 150 families were moved to Mosul itself.