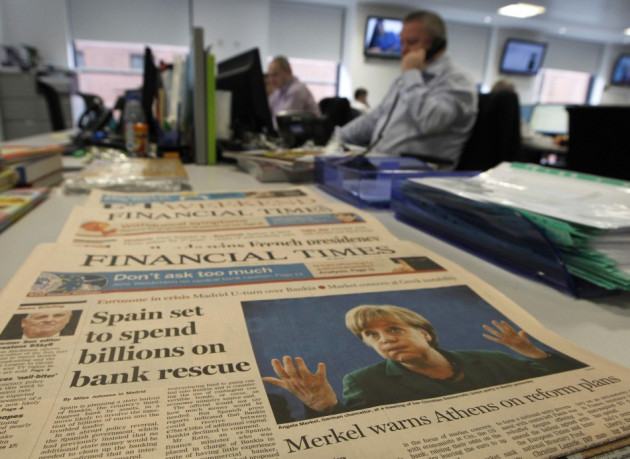 New York City Mayor Michael Bloomberg is considering buying the ailing newspaper The Financial Times, The New York Times reports.
"Michael R Bloomberg is weighing the wisdom of buying The Financial Times Group, which includes the paper and a half interest in The Economist, according to three people close to Mr Bloomberg who spoke on the condition of anonymity to divulge private conversations," the report said.
There has been speculation that the paper could be up for sale as its publisher Pearson Plc is set to lose two top executives. Pearson CEO Marjorie Scardino is departing on 31 December, while Rona Fairhead, CEO of The Financial Times Group, will leave at the end of April 2013.
While official data regarding the paper's financials are not available, analysts value The Financial Times Group at about $1.2bn (£748.8m), according to NYT. The Mayor's Bloomberg LP recorded revenues of $7.6bn in 2011.
The paper could be sold around early 2013, the NYT reported, citing a media banker with knowledge of the company.
However, Bloomberg is concerned that the acquisition could bring down the overall profitability of the group as the global print industry is facing a decline in advertising revenue.
Factions within Bloomberg LP reportedly prefer to buy a digital property like the website LinkedIn rather than a newspaper. Particularly, Bloomberg LP CEO Daniel Doctoroff was sceptical about the prospects of buying a newspaper, NYT added.
Bloomberg LP's direct competitor, Thomson Reuters, with a revenue $13.8bn in 2011 could also bid for the newspaper if it is put on the block, according to the NYT.
The newspaper has been suffering from "the shift from print to digital" resulting in lower print advertising revenues. The paper had more than 600,000 paid circulation in the three months ending on 1 October, but the majority of them was digital.