As London Technology Week kicks off, business and technology leaders from around the world gather to discuss how the city can finally become a real competitor to Silicon Valley.
Ahead of the official opening of the event in the heart of Tech City in east London on Monday, Michael Bloomberg, former mayor of New York, said that like his own city, London is now a viable challenger to Silicon Valley:
"Ten years ago, no one thought of New York or London as a competitor to Silicon Valley – but today, more and more tech companies are looking to our cities as places to launch and grow, because they offer such diversity, creative talent, and high quality of life."
The billionaire businessman and his consultancy firm Bloomberg Associates will work with city officials on the new Center for Urban Science and Progress London, which will house over 100 researchers and 500 students to "train a new generation of postgraduate and PHD level urban scientists with the skills and knowledge to benefit London and other major UK and international cities."
Bloomberg added that he wants to "build on London's tech momentum and create more jobs in the city."
"Selling our souls"
Ever since the creation of Tech City, the east London technology startup cluster, the city has been playing up its position in the tech world, but some have questioned just how well it is doing as UK startups are just looking for a quick exit and "selling their souls" to US companies.
However Sir Michael Moritz, chairman of Sequoia Capital, said people in Silicon Valley are now beginning to take notice of London:
"In Silicon Valley we are often too busy bathing in our private sunshine. But the change in London's technology climate has got us checking our weather apps. The weather alerts show that there will be plenty of opportunities to invest in technology companies based in London in the coming years – some of which will become global powerhouses."
London: Tech Capital of the World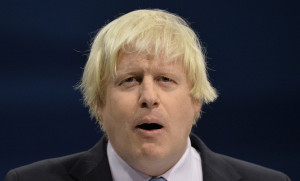 The city's Mayor Boris Johnson has already announced his vision to transform London into the leading global city in the tech industry, rivalling the capital's dominance in financial services.
Johnson, said: "Tech Week is a superb opportunity to hail the success of London's tech sector, which despite only being in adolescence already makes a tremendous contribution to our economy and is outperforming our rivals around the globe. The tentacles of our digital army now spread to every corner of the capital and far beyond."
To coincide with the launch of London Technology Week, research from Oxford Economics which claims London will overtake New York and Silicon Valley in the area of digital technology employment with Britain's capital city expected to create 46,000 new jobs by 2024 - and generate £12 billion thanks to increased economic activity.
Powerhouse
Speaking of the impact the tech sector has had on the economy in London, former head of Facebook's EMEA operation and current chair Tech City UK, Joanna Shields, said:
"London is a digital powerhouse. In recent years the tech sector has played a crucial role leading economic recovery, accounting for 27% of new job creation. We are producing world-leading digital businesses, which in turn are fuelling wealth creation and employment."
The inaugural London Technology Week will take place this week across the capital with more than 200 independently-run events set to be attended by over 30,000 entrepreneurs, investors and developers from around the world.
Keynote speakers include Michael Birch, co-founder of Bebo; Simon Breakwell, co-founder of Expedia; and Brent Hoberman, co-founder of PRO Founders Capital.
Some of the the world's biggest tech companies, including Microsoft, Samsung, Google, Eventbrite and Yammer, as well as home-grown successes, such as Mind Candy and Hassle, will take part.
London Technology Week runs throughout the week and for more information and a full updated list of events visit the event's website here.