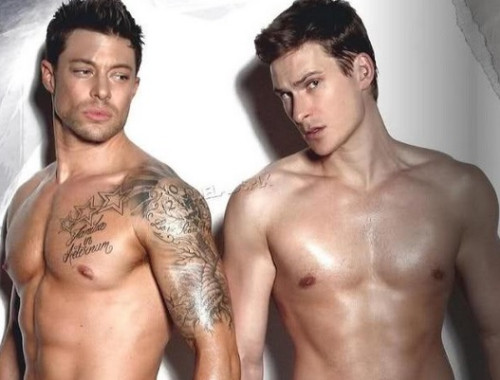 Blue singer Duncan James has denied reports that he had a gay fling with his bandmate Lee Ryan.
The 35-year-old singer hit back at claims in an article published in the Sun that the pair had had full sex.
A source said: "Lee has an incredibly intense relationship with Duncan. He feels he is the only person in the world who truly understands him.
"They love each other and it's true they've been intimate over the years. They're completely comfortable with each other and still go on holidays together.
"Even though they both have children, neither has married."
Openly bisexual James – who has previously admitted to enjoying threesomes with Lee – took to Twitter to dismiss suggestions that he had had full sex with Ryan.
"I mean I love Lee but not THAT much," he told his 270,000 followers.
James's comments come days after Ryan admitted to having a sex with a man during his stint on Celebrity Big Brother.
The 30-year-old star revealed intimate details about his sexuality while speaking to Jasmine Waltz and Luisa Zissman about orgies and same-sex relationships.
"'Yeah I've been with a man. Everyone's done experimentational s***. I'll tell you later," he said.
"Of course, man. I'm a well-travelled person. I've never admitted it anywhere. No-one's bothered to ask."
Ryan, who is embroiled in a love triangle with Jasmine and Page 3 model Casey Batchelor in CBB, recently revealed that he was keen to "get married and settle down".
"I'd love to get married and settle down and meet someone. It's not as easy as that. I won't settle just because I got to," he told Lionel Blair.
"I'm very extravagant, I would want it to be the most wonderful marriage in the world. It doesn't mean about spending lots of money, it's the thoughtfulness."