Far-Right Extremists Chased Through London by Women Dressed as Badgers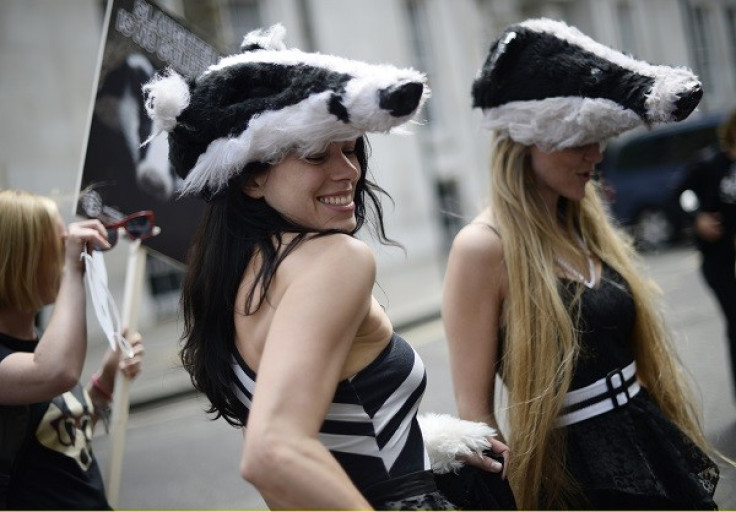 A rally by extremists from the British National Party and the English Defence League was dwarfed by opposition campaigners staging rival protests in London on Saturday 1 June.
Shortly after lunch, a die-hard core of around 50 BNP and EDL supporters was confronted outside parliament by hundreds of activists from anti-extremist groups including Unite Against Fascism and Hope Not Hate.
But in the event, both groups were upstaged by agitators of a different stripe. Decked out from head to toe in black and white, the group that won the day were campaigning neither for race war nor ethnic equality, but an end to the government's cull on badgers.
And it was the pro-badger campaigners who appeared to steal a march on the political activists.
Young women dressed in fake fur were seen chasing doughty nationalist supporters down London's Whitehall as a large number of security forces in iridescent jackets looked on from police lines.
Led by Queen guitarist Brian May, protesters in fancy dress demanded an end to the government's cull of badgers, brought in to stop the spread of bovine tuberculosis.
They chanted: "Smash the cull! Smash the BNP!"
BNP candidate Clifford Le May was left with a bloody nose after being caught up in a rival enclave of human rights activists.
The BNP's leader, Nick Griffin, had earlier backed down on his threat to defy a police ban and march on Woolwich after the murder of Drummer Lee Rigby. Rigby's family had issued a statement appealing for calm.
Police invoked powers under the Public Order Act to force demonstrators to move back from Old Palace Yard, demanding activists from all sides return to their pre-arranged areas.
At least 58 anti-extremist campaigners were arrested during the course of the afternoon, most of them for obstructing the path of the BNP and EDL, who had been granted permission to march by the police.
"It's a shame we can't just cull the EDL and let the badgers march. Who wouldn't want to see marching badgers!" said protester Ian Power on Twitter.
READ: Father of 'Adolf Hitler' And 'Aryan Nation' Appears at Custody Hearing in Nazi Uniform
© Copyright IBTimes 2023. All rights reserved.