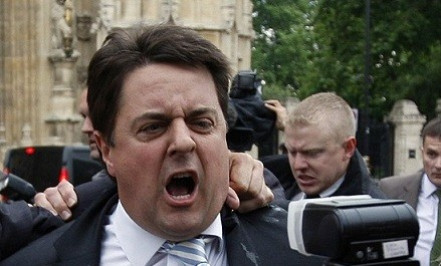 Desperate Nick Griffin has shed the last vestiges of political credibility with his final throw of the dice - by issuing Twitter threats to a gay couple.
Griffin tweeted the home address of Michael Black and John Morgan, warning them to expect a visit from a "British justice squad."
He acted after they won a high-profile court victory for discrimination against a B&B owner. By telling his 67,000 or so followers where the couple lived after the court verdict, Griffin switched the focus of the story and gave his beleaguered party the oxygen of publicity.
Why do this? And why do it at a moment when the BNP seems locked in a death spiral, riven by internal conflict and lousy polling.
The British National Party leader spends most of his time in Brussels doing not very much, so obviously the popular microblogging site is an ideal way to idle away some time.
But it is not like there is not plenty to think about for Griffin.
Just this week, Andrew Brons MEP quit the party, leaving Griffin without a colleague in the EU parliament. Brons decided he would be better off on his own as an independent, than by staying in the BNP.
Unhelpfully for BNP morale, Brons published lurid details of his fall-out with Griffin in documents which lift the lid on how bad things are inside the far-right organisation. Brons claimed up to 90 per cent of members have quit the party.
Brons' departure means Griffin is the sole other MEP the party has. The result is that he is all alone in Brussels with just a few foreign extremists from the outer reaches of the continent for company.
Elsewhere, at home, things are looking decidedly grim for the party he leads. Brons' claim on party membership, if true, would constitute a devastating blow to its coffers. Reduced funds would explain why not one BNP candidate is standing in the upcoming elections for police commissioners - fielding a candidate costs £5,000.
The party insists this is because it rejects the "statist" premise of the role. However, the omission is surprising since law and order is a dog-whistle issue for the far-right - a potential source of votes when votes are solely needed.
Earlier this year, BNP lost a net 11 councillors in the English local elections. The party's London mayoral candidate Carlos Cortiglia finished rock-bottom in the poll.
It was the same story on the London Assembly, where Richard Barnbrook was booted out by voters after a single term at City Hall.
Meanwhile, the mantle for disaffected "natives" - a BNP label - has been stolen by the English Defence League (EDL).
This group is a small collection comprising mainly of motley louts who get drunk, then go on marches during which they are roundly booed by residents every step of the route. After they leave a scene, there is often a smell of urine in the area. That was certainly the case in Walthamstow, east London, witnesses said.
EDL leader Tommy Robinson (not his real name) has displayed some verve in mobilising support against a perceived muslim threat to the UK. However, the public figure posture he adopts by claiming to speak up for citizens everywhere, regularly slips - such as when he totally lost his temper live on air at BBC radio Sheffield, recently.
A well-organised official party like the BNP should have no problem throttling this threat to its dominance of the far-right political ground. But instead, it looks increasingly sidelined by the EDL and its dynamic leader.
Griffin and his party, who dress in suits and would bid for mainstream credibility, look like they have been shoved off their perch by a fledgling movement which does even formally exist, politically.
What a contrast to just three years ago. That was when Griffin won access to a mainstream platform when he controversially appeared on the BBC current affairs show, Question Time.
Unfortunately for Griffin, his shambolic performance totally defeated his purpose. Giggling like a schoolgirl while his credibility crashed in flames on TV, his laughable lack of substance was exposed. Months later, the electoral denouement was duly delivered: voters in BNP strongholds abandoned the party in droves. All hopes of an electoral breakthrough were dashed.
Griffin has now hit the headlines for his thuggish menace of a gay couple. By reminding Britons he still exists in this way, it seems hopes of being a serious political figure are no longer taken seriously by even himself.