BNP's Nick Griffin Heads to Greece to Back Neo-Nazi Golden Dawn
Bankrupt far-right leader to announce neo-Nazi party's human rights appeal against arrests
Bankrupt far-right British politician Nick Griffin will speak at a press conference held by the neo-Nazi Golden Dawn party in Athens.
Griffin, head of the British National Party (BNP), will present Golden Dawn's plans to appeal to the European Court of Human Rights over the Greek government crackdown on it.
Greek MPs decided to remove state funding to the party after six Golden Dawn MPs were charged with running a criminal organisation in a case triggered by the murder of anti-fascist rapper Pavlos Fyssas, nicknamed Killah P.
The party leader, Nikos Michaloliakos, is awaiting trial on charges of running a criminal organisation, along with the deputy leader and another party MP.
The neo-Nazi party saids that the custody was "illegal and unconstitutional" and announced that it would present documents showing how the "scheme against Golden Dawn was set up".
Griffin declared insolvency at Welshpool and Newtown County Court last week. The 54-year-old was sent deep into red by a debt to a law firm he had been suing for professional negligence.
The member of the European Parliament tweeted before heading to Athens:
The Greek far-right party said on its website: "Mr Griffin was among the first who expressed his sympathy to Golden Dawn with a speech in the European Parliament and also participating in the European conference in Russia for illegal political persecution."
Golden Dawn's press conference will be held in the Hotel Krystal, as reported by Enet English, a Greek independent news site.
In September, after the arrest of Golden Dawn leaders, Griffin expressed his "full solidarity with Greek patriots, being persecuted by the system as a consequence of their fast growing support among ordinary Greeks".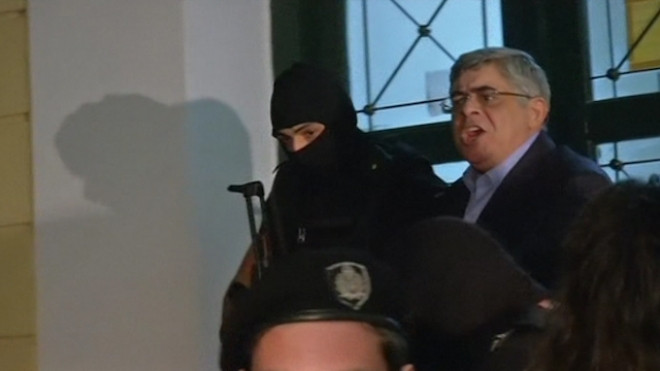 "The disgraceful actions taken by the Athens authorities, using false allegations as a cloak of their undemocratic attack on the nationalist alternative, are a clear example of the totalitarian attitude of liberal regimes, which is becoming more and more visible," Griffin said.
Speaking at the European Parliament, Griffin said: ""Half a million Greek voters have been disenfranchised by the attempted murder of Golden Dawn at the behest of EU bureaucrats, German bankers and Zionist gangsters."