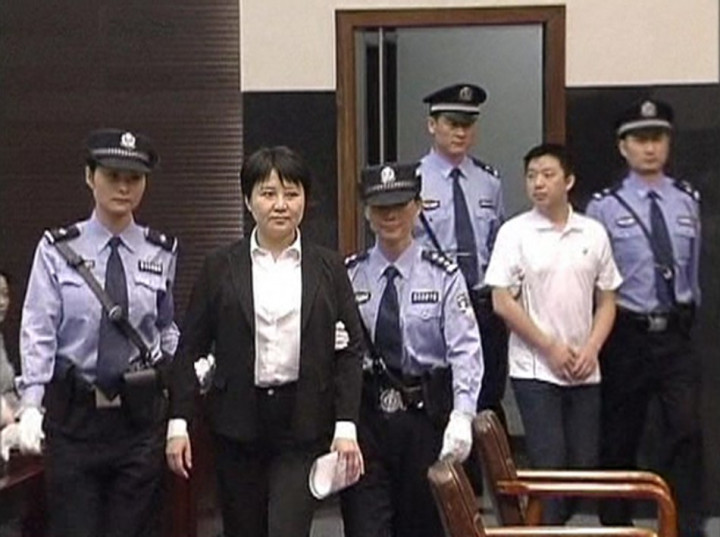 Gu Kailai, the wife of the disgraced Chinese politician Bo Xilai, has confessed to the murder of British businessman Neil Heywood.
In a report carried by China's official Xinhua news agency, Gu said a mental breakdown caused her to murder the Briton.
"During those days last November, I suffered a mental breakdown after learning that my son was in jeopardy. I will accept and calmly face any sentence and I also expect a fair and just court decision," Gu said during the swift, day-long trial.
The trial lasted about seven hours and the verdict has been reserved by the court in Hefei, the capital of Anhui province. If convicted, Gu could face the death penalty, but experts believe that such a punishment is unlikely.
Gu reportedly said that the incident was a tragedy and apologised to Heywood's relatives.
Gu and her household aide Zhang Xiaojun are accused of poisoning Heywood in November 2011.
Bo, a rising political star who had been widely tipped for a senior government role, was stripped of his responsibilities in the Communist Party's politburo when the allegations surfaced.
"I hope the court can give me a chance to take a new lease on life. I really know that I did wrong," said Zhang.
The wife of the ambitious politician said she was driven to extreme action because Heywood posed a threat to her son's personal security.
"This case has been like a big stone pressing down on me for the past half year. Looking back now, it has really been like a nightmare," Gu added.
It was also reported that Gu was taking drugs to treat depression.
The day after the trial, four police officers also admitted helping Gu to cover up the murder, according to court officials.
Gu introduced Heywood "to serve as a proxy to a company and participate in the planning of a land project, which never got started. Heywood later got into a dispute with Bogu Kailai [Gu's married name] and her son over payment and other issues, and he threatened her son's personal safety," said the court statement.
Describing the actual murder, the statement added: "After Heywood became intoxicated, vomited and asked for a drink of water, she poured a poison into his mouth that had been prepared beforehand and that she had given to Zhang Xiaojun to bring along, causing Heywood's death."
Heywood's death was initially blamed on too much alcohol.