Disgraced Chinese politician Bo Xilai has fiercely defended himself against a number of accusations stemming from his time as party boss in the southwestern megacity Chongqing.
Bo, 64, appeared before a court in the city of Jinan on charges of bribery, embezzlement and abuse of power at the start of his long-anticipated trial.
At his first public appearance in 18 months, the fallen star of the Communist Party claimed he was framed and described one of the key prosecution witnesses as a "mad dog".
In court Bo, who had a strongman reputation during his rule, told the court his previous confession was coerced by investigators through "unjust pressure and coaxing".
This statement surprised many analysts, who expected Bo to stick to a pre-planned script of accusation, admission and conviction.
According to prosecutors, Bo received about 21.8m yuan (£2.3m) from entrepreneur Xu Ming and Tang Xiaolin, general manager of the Hong Kong-based export company Dalian International Development.
"Regarding the matter of Tang Xiaolin giving me money three times, I once admitted it against my will during the Central Discipline Inspection Commission's investigation against me," Bo said, referring to the Communist Party's anti-corruption body.
"[I'm] willing to bear the legal responsibilities, but at that time I did not know the circumstances of these matters: my mind was a blank," he said.
Bo described Tang as a "mad dog" who wanted to "frame me out of consideration for his own interests" and his testimony as "the ugly performance of a person selling his soul".
"This evidence has little to do with my criminality," Bo said. "I was just hoodwinked. I thought it was all official business."
Foreign journalists weren't allowed inside the courtroom and Bo's comments were carried by the court's official microblog.
Family's dirty linen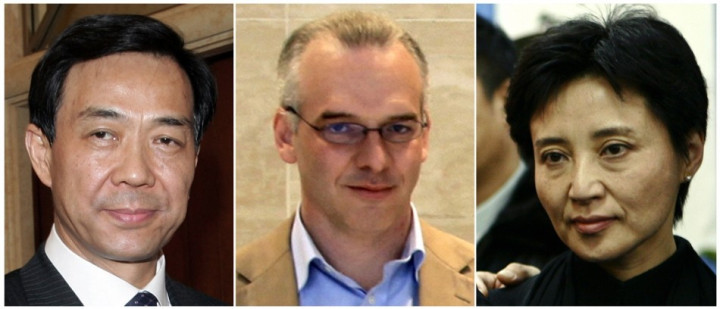 Bo also denied receiving bribes through his wife Gu Kailai and his son, Bo Guagua, who is in the United States pursuing a law degree at Columbia University.
He descried as "very comical, laughable," his wife's testimony, as read by the prosecutor. Gu confessed to taking thousands of yuan and tens of thousands of US dollars from safes in their China homes to finance her stay in the UK.
The money was bribes paid by Tang, the prosecution claimed.
The downfall of Bo, who was widely tipped for a senior government role, started in November 2011 with the murder of Briton Neil Heywood, a business partner and family friend.
Gu confessed to the killing and was handed a suspended death sentence last year. Bo was subsequently accused of abuse of power for trying to cover it up.
Further accusations followed. Bo was also accused of embezzling 5m yuan from a government project in the northeastern city of Dalian, where he served as mayor before being appointed Chongqing chief.
Some analysts said his downfall was the result of his defeat in party infighting ahead of China's once-a-decade leadership transition last autumn.
"Bo Xilai's faction fell out of grace during the power struggle among top leaders," said Pu Zhiqiang, a prominent human rights lawyer based in Beijing. "In reality, it does not matter what he is charged with ... because this is a political trial, which does not represent the spirit of law."
Bo told the court he hoped his trial would be fair, saying: "I hope the judge will reasonably and fairly judge, and judge this according to the laws of our country."
If convicted he could face a death sentence, and there is reportedly little doubt he will be found guilty. The trial continues.