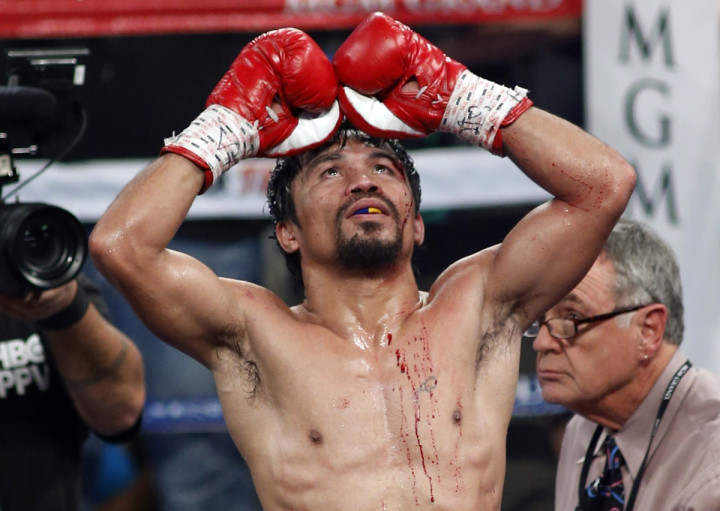 Juan Manuel Marquez is one of a number of names on a shortlist to face Manny Pacquiao in his next fight in November, according to Top Rank chief Bob Arum.
Pacquiao, 37, avenged his 2012 loss to Timothy Bradley in impressive fashion in April to quell suggestions he was a spent force in the upper echelons of the boxing world.
Speculation as to who his next opponent will be has been rife since that unanimous decision victory in Las Vegas with Miguel Cotto and Sergio Martinez in the frame while the prospect of a long-awaited showdown with Floyd Mayweather Jr remains hopeful at best.
But Pacquiao's promoter Arum has revealed a fifth fight with old foe Marquez remains a priority for the WBO welterweight champion ahead of his next fight in Macau later this year.
"Manny has a number of options for fighting in November, on the 22nd and we will announce shortly who he is going to be fighting," the Top Rank CEO told World Boxing News.
"Whether it is Marquez or somebody else will become clear in the next couple of days."
Arum also added that a number of fighters from Oscar de la Hoya's Golden Boy Promotions are also on the shortlist.
"There are plenty of names. Ruslan Provodnikov is on the list, Carlos Abregu, the Argentinian welterweight is on the list. Those are two of the principal names. And then we will have to see how many Golden Boy fighters will be available for the fight and that will become clear in the next week or so."
Arum has previously suggested Pacquiao was in line to fight the winner of Miguel Cotto and Sergio Martinez, who recently fought in New York. The Puerto Rican dominated his opponent, stopping him in the 10th round en route to securing a victory which could see him considered for the November slot with the Filipino fighter.
"Yeah, Manny has agreed to fight the winner (of Cotto v Martinez)," Arum said via ES News. "I haven't talked to either of these fighters whether if they won they would want to fight Manny, but I'll do that after the fight. I'll only have to talk to one guy, not two."