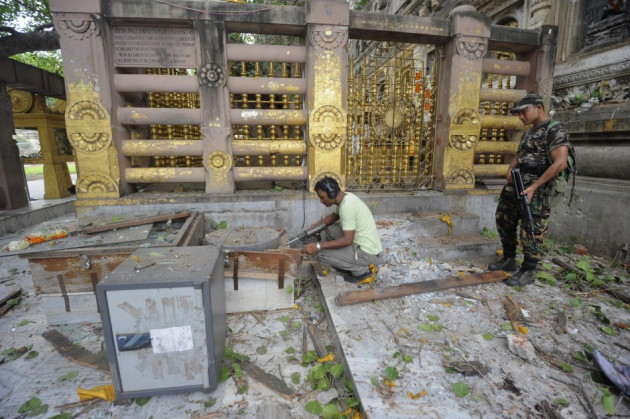 The historic Buddhist town of Bodh Gaya, located in the north Indian state of Bihar, has been rocked by a series of blasts that have left at least two monks injured. No damage to the historic temple or its relics has been reported.
The federal government in New Delhi called it a "terror attack", laying the blame on the notorious Islamic militant outfit Indian Mujahideen.
The injured are from Myanmar and have been admitted to hospital.
Buddhists believe Gautama Buddha attained enlightenment at this place. The tree and the temple complex are often visited by Buddhists from Sri Lanka, Japan, China and Myanmar.
According to the authorities, there were nine blasts in quick succession across the pilgrimage site. Initial reports suggest the blasts were of low intensity. Two unexploded bombs were defused by bomb squad personnel.
The Press Trust of India quoted a top police official as saying that while four blasts took place inside the Mahabodhi Temple complex, three occurred in Karmapa monastery, one each near the famous 80-foot Buddha statue and at a nearby bus stand. "The sanctum sanctorum of the Mahabodhi Temple is intact. The temple premises have been sanitised," Nayyer Hussnain Khan said.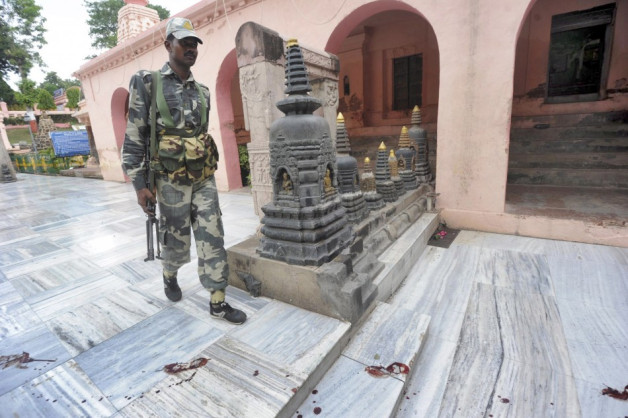 A temple official named Dorji told reporters: "There were four blasts inside the temple premises. Fortunately, there was no damage to the Bodhi Tree or the main temple structure. In the first blast, which took place near the Bodhi tree, a table was blown up because of which two persons were injured. The second blast, I think, was inside the enclosure where books were kept. The furniture was damaged but there was no damage to the monuments or statues."
Intelligence officials had warned of an attack in the area. "We got information about six, seven months back that there may be a terror attack on the Mahabodhi temple. After that we had beefed up security and deployed extra forces," said senior police official S K Bharadwaj.
The blasts have triggered alerts in major cities across India and security has been beefed up.