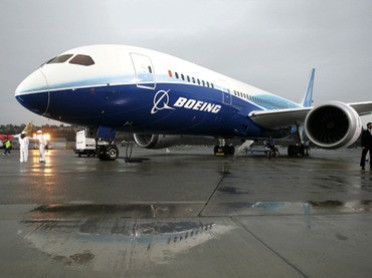 Boeing posted record revenue and new orders last year as the world's biggest planemaker continues to face testing questions over the safety of its flagship 787 Dreamliner.
Boeing reported operating earnings of $1.6bn (£1bn; €1.2bn), or $1.28 per share, for its fiscal fourth quarter, the company said in a statement published on its website, down from $1.32 per share during the same period last year.
A Thomson Reuters estimate suggested analysts were expecting earnings of $1.19 per share. Revenue for the three month period hit a record $22.3bn while the backlog of orders rose to 3.2 percent to $380bn from the three months ending in October. Annual sales topped $81bn, the company said, with $114bn in new orders booked. Annual operating earnings were measured at $6.3bn, or $5.11 per share.
"Strong fourth-quarter operating performance capped a year of significant growth and solid execution, driving higher earnings and cash flow for our company," said Chairman and CEO Jim McNerney. "In a year of considerable achievement, Boeing was the commercial aviation market leader for both orders and deliveries, with more than 600 airplanes delivered, including the first three Charleston-built 787 Dreamliners
Boeing said 2013 earnings will rise to between $5.0 and $5.2 per share on sales of around $82bn to $85bn, largely in-line with Thomson Reuters estimates.
Commercial airplane revenues will comprise around $51bn to $53bn of that total, the company said, while defence and space related revenues will be between $30.5bn and $31.5bn. Overall deliveries this year are expected to be between 635 and 645 units.
Boeing is currently being investigated by regulators in the US and Japan over failures in its lithium-ion batteries that led to a fire on a Japan Airlines 787 in Boston and an emergency landing for an All Nippon Airways plane in early January. The 787 Dreamliner fleet, currently comprised of around 50 planes, remains grounded pending the dual investigations.
"Our first order of business for 2013 is to resolve the battery issue on the 787 and return the airplanes safely to service with our customers," Jim McNerney said. "At the same time, we remain focused on our ongoing priorities of profitable ramp up in commercial airplane production, successful execution of our development programs, and continued growth in core, adjacent and international defense and space markets."
Boeing said it will continue 787 Dreamliner production schedules but will not deliver any more planes until the conclusion of the Federal Aviation Association's probe into the battery failures.
Boeing shares rose 0.65 percent in early trading on Wall Street to change hands at $74.06 each. The shares have fallen around 5 percent since the fire was first reported at Boston's Logan Airport on 7 January.