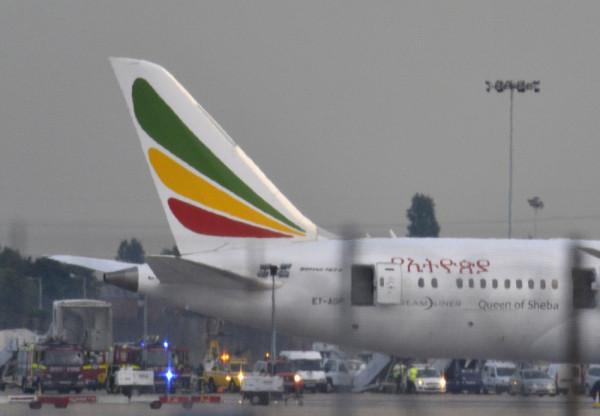 A fire onboard a Boeing 787 Dreamliner, parked at a remote stand at Heathrow, has re-awoken fears over the new jet's safety record.
According to the BBC, a Dreamliner registered to Ethiopian Airways caught fire on Friday, leading to the closure of the airport for 90 minutes and large-scale disruption to scheduled evening flights.
Investigations into the incident are ongoing and Boeing has sent a team of experts. In addition, a representative from the US National Transportation Safety Board is assisting the Air Accidents Investigation Branch.
"We're aware of the 787 event at Heathrow Airport and have Boeing personnel there. We're working to fully understand and address this," Boeing tweeted after the incident.
Preliminary reports indicate no problems with the plane's lithium-ion batteries, which caused a global grounding of the fleet earlier this year. Aviation experts quoted by Bloomberg believe the fire broke out some distance from the location of the two batteries, judging by the location of burn marks.
Meanwhile, in a separate incident, a Thomson Airways Dreamliner en route to Florida returned to Manchester Airport as a precautionary measure after the plane "experienced a technical issue".
A spokesperson said: "Passengers have disembarked and our dedicated team of engineers are now inspecting the aircraft. Our customers will be moved to an alternative aircraft to ensure they get away on their holiday as soon as possible."
These two events will only add to the pressure on Boeing concerning the 787 Dreamliner.
Dreamliner Woes
Fifty Dreamliners were grounded in January, following unrelated accidents on two planes operated by Japanese carriers. On 7 January, a Japan Airlines (JAL) plane caught fire at Boston's Logan International Airport. Nine days later, an All Nippon Airways (ANA) aircraft made an emergency landing in Japan, citing battery problems.
Boeing modified the batteries, and flights resumed in April. However, further problems have since surfaced.
On 24 June, a Dreamliner operated by United Airlines was forced into an unscheduled landing, due to a fault in the braking system. On 13 June, one of the engines on a 787 operated by ANA did not start, forcing the pilot to cancel the flight. This came a day after rivals JAL returned a flight to Singapore, due to a problem with the anti-icing system.