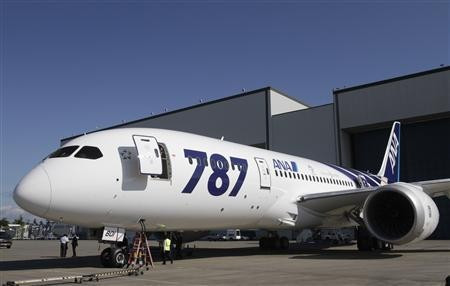 U.S.-based commercial aircraft manufacturer Boeing has announced they intend to scale up production speeds of their newly launched 787 Dreamliner, to 10 planes per month, by the end of 2013.
The Dreamliner is the company's new mid-size, long-range aircraft and has been touted as the first of a new generation of fuel-efficient aircrafts of the 21st century. The company currently only produces 2 - 3 planes every month, a figure that has put them, according to their statement, three years behind schedule.
An AFP report further quoted Marks Jenks, the Vice President of Development for the 787 programme, as saying that a shimming problem on the fuselage of the 787 had been fixed. The problem was referring to small cracks in the wings and is the result of two parts not fitting together perfectly.
"It is a straightforward issue... it has been fixed upstream on aircraft we are building now," Jenks said at a news conference in the city-state ahead of the Singapore Air Show which kicks off on Tuesday.
"It should not have significant impact on our production line. We should need to go through a process of inspecting other planes. If they require any work we can do it fairly quickly," he added.
Meanwhile, the 787, which is in the midst of a six-month Dream Tour, taking it around the world to show off to potential customers, landed in Singapore on Saturday, where it will remain on display from Feb. 14 to Feb. 17. A Boeing press release said the test plane ZA003 was outfitted with the 787's special cabin features including a welcoming entryway, dramatically larger dimmable windows, bigger bins and dynamic LED lighting. The airplane is configured with a luxurious business-class cabin, an overhead crew rest compartment and an economy class section.
The company has so far reportedly received 870 orders from 59 airlines.