Boko Haram: Chibok girls' parents going to Cameroon to verify child suicide bomber claim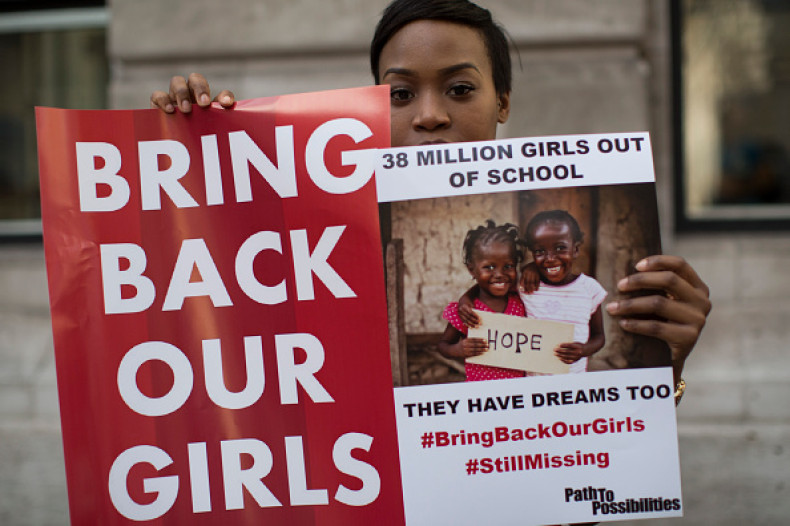 Parents of Nigerian schoolgirls abducted by terror group Boko Haram in April 2015 will be sent to Cameroon to verify whether a would-be female suicide bomber arrested on 25 March is one of their daughters. The girl claimed she had been abducted from Chibok, a remote village in the restive Borno state, in April 2015.
The girl was arrested along with a female accomplice in northern Cameroon. They both carried explosives and were captured by local defence volunteers near the village of Limani.
The girl, who claims to be from Chibok, is believed to be aged between nine and 12 and she is probably too young to be part of the 219 Chibok schoolgirls, who are still missing. Her accomplice was at least 30 years old, and both spoke only in Kanuri language, a statement by Garba Shehu, senior special assistant to President Muhammadu Buhari, said.
Who are Nigeria's Boko Haram terrorists?
Boko Haram, which has renamed itself Iswap, fights against Western influence in Nigeria and aims to impose its version of Sharia law throughout occupied territories.
The group carries out attacks in Nigeria and neighbouring countries in a bid to take control of more territory. Three Nigerian states − Adamawa,Borno and Yobe − have been under a state of emergency since May 2013.
Boko Haram has killed 20,000 people since 2009 and was deemed the world's deadliest terror group, surpassing its ally, Islamic State (Isis), in November 2015.
Nigeria has become the third most terrorised country as a result of the group's violent insurgency.
"Cameroonian health and security officials on Monday started the treatment of an arrested suicide bomber who claimed to be one of the 219 missing Chibok Girls. The girl was found to be heavily drugged and bore several injuries on her body," the statement continued. "The girl's health condition had delayed her movement to the far north regional capital of Cameroon, Maroua, as earlier planned."
Boko Haram primarily carries out attacks in northern Nigeria and northern Cameroon. The group is renowned for kidnapping civilians, mainly women and children, and forcing them to carry out suicide bombing missions in crowded areas.
The Chibok girls were kidnapped as they were attending evening school. The mass-abduction stirred international outrage and shed light on the deadly insurgency of Boko Haram that, until then, had remained under-reported.
Earlier this year, Buhari ordered a fresh investigation into the kidnapping of the 219 girls.The president approved the new investigation after meeting with some parents of the missing girls as well as members of the Bring Back Our Girls movement, who had organised a march in the federal capital of Abuja.
Although Buhari declared a technical victory over the fight against the insurgents in December, Boko Haram has been carrying out scatteredattacks across north-eastern Nigeria and neighbouring countries.
Buhari also said he was ready to negotiate with the terrorists for the release of the Chibok girls. However, some analysts have pointed out that negotiations will unlikely occur after Boko Haram allied with the Islamic State (Isis).
---
Nigeria up close: Check out our Flipboard magazine
---