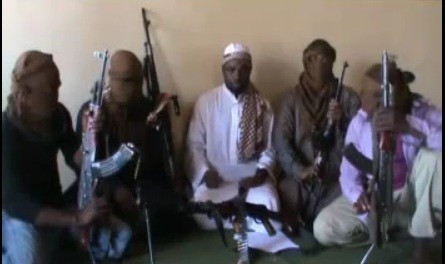 The United States is set to apply the "foreign terrorist" label to three alleged members of the Nigerian militant group Boko Haram, officials said.
In a move that is considered a first step toward putting the whole group on its blacklist of foreign terrorist organisations, joining al-Qaida and Turkey's PKK among others, the state and treasury departments are poised to take stronger action against the group.
In the latest acts of violence against Christians in the African country, Boko Haram claimed responsibility for killing at least 21 people in two separate attacks on churches in the city of Zaria, Kaduna state.
The three native Nigerians that the US has in its sights are: Abubakar Shekau, 43, a Boko Haram leader who reportedly aligned himself with al-Qaida in a video message; Abubakar Adam Kambar, 35; and Khalid al-Barnawi, aged 36.
Designating them as terrorists will freeze any assets they have in the US and bar any US citizen from conducting transactions with them.
President Barak Obama and the state department have been under pressure to take act stronger against the Islamist terrorist sect for months and formally include it on its terrorist watch list.
Republican senator Scott Brown wrote to secretary of state Hillary Clinton, urging her to take action against the group. But 20 American experts on Nigerian politics warned that branding Boko Haram as a terrorist organisation would empower the group on an international level and enhance its profile among al-Qaida and other militant groups.
"The network's focus has been overwhelmingly domestic, despite an August 2011 attack on the United Nations office in Abuja," they said.
The suicide bombing in Abuja is being used by lawmakers as evidence of the armed group's willingness to harm American interests.
Nigerian officials are concerned that putting Boko Haram on the watch list will make it more difficult for Nigerian citizens to travel to the US and affect bilateral trade between the two nations.
Defence minister Bello Halliru Mohammed said the plan to list Boko Haram as a "foreign terrorist organisation" would also affect dialogue between the group and the government.
"We are looking at a dialogue to establish the grievances of the Boko Haram. The attempt to declare them an international terrorist organisation will not be helpful," Mohammed said
"Boko Haram is not operating in America and America is not operating in Nigeria. They are not involved in our internal security operations, so I don't think it would be of much significance really in that respect. But we don't support it."
Peace talks between the federal government and the sect, which wants to impose Sharia law across Nigeria, were halted when a Boko Haram spokesman claimed he could not trust the government.