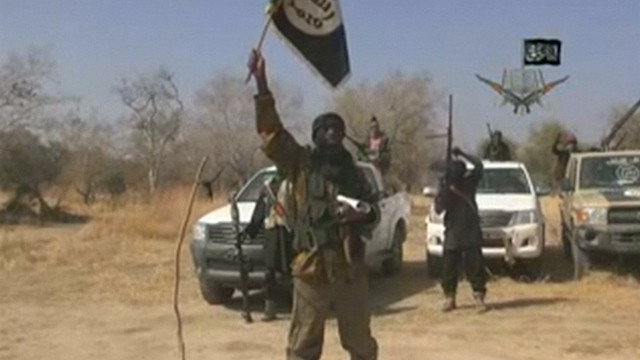 Islamist insurgents have attacked Nigeria's northeastern town of Maiduguri, in a fierce gun battle that has killed eight people.
The incident started at around 7am (6am GMT) local time on Sunday, with an exchange of rocket launchers and heavy gunfire between troops and Boko Haram fighters near Giwa Barracks, Molai axis.
"There is heavy gunfire going on. Everybody is panicking and trying to flee the area," said Idris Abubakar, a resident of Polo on the western outskirts of the city.
Growing violence by the insurgents remains a huge issue for President Goodluck Jonathan who faces elections on 14 February in a vote that analysts say is too close to call.
Capturing Maiduguri, the biggest city in northeast Nigeria, would be a huge boost for Boko Haram, which currently controls mostly rural areas along the Cameroon and Chad borders that together make up a territory the size of Belgium.
Resident Babagana Lawan told a Reuters journalist that a grenade fell on his house, killing his brother and two factory workers living with him.
A security source confirmed the attack but said troops had been mobilised to try to repel the insurgents.
A hospital source said eight bodies had been brought in from the skirmish.
This is the third attack in a week on Maiduguri and there are unconfirmed reports that a Chadian jet fighter helped bomb the militants out of Gamboru on Nigeria's northeast border with Cameroon. Boko Haram insurgents had held the trading centre since August.
Boko Haram has become the main security threat to the stability of Africa's biggest economy and top oil producer, and increasingly threatens its neighbours.
At a summit on Saturday, African leaders authorised the creation of a 7,500-strong force from Nigeria and its four neighbours to fight against the continuing attacks by Nigeria's Boko Haram group.
Trapped residents in Maiduguri said they could not sleep for the barrage from cannon, rockets and submachine gunfire that began on Saturday night, according to Global News.
A senior army officer said the militants were "everywhere", attacking from all four roads.