Bollywood met British royalty as Indian superstar Shah Rukh Khan was honoured today (15 October) at Edinburgh University. The actor was presented with the degree of Doctor Honoris Causa from the University Chancellor HRH The Princess Royal.
Khan, who is hailed as the world's biggest superstar, was presented with the degree in recognition of his outstanding record of philanthropy, altruism and humanitarianism and his global reach as an actor.
Receiving his honorary degree, Shah Rukh Khan, said: "It is a pleasure to be honoured by the University of Edinburgh and tread in the footsteps of so many of the world's illustrious thinkers, leaders and personalities. To have the opportunity to address one of the most esteemed educational institutions in the world is a special moment.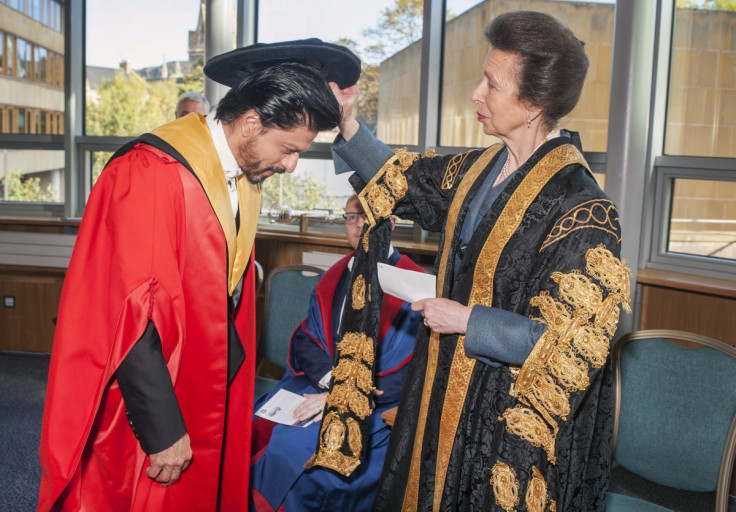 "I look forward to the University continuing on its path as a great civic university, demonstrated by its partnership with India, addressing health, academic and research excellence and social justice. I hope that many more of India and South Asia's brightest minds get a chance to learn, think and grow at Edinburgh."
After the presentation, the 49-year-old, who has starred in over 80 films and clocked over 25 years as a leading light in the Indian film industry, took to the dais for a public lecture in which he shared his own life lessons with an audience comprising 400 South Asian students, all of them ardent fans of the star.
Using his chronology of films as the backdrop, he extolled on the most important virtues and goals of life, citing "madness (of the particularly nice /romantic kind) as an absolute prerequisite to happiness ...There's no such thing as normal" he espoused." That's just another word for lifeless."
I am a Doctor all over again...yay!! pic.twitter.com/jKoDnDAhw8

— Shah Rukh Khan (@iamsrk) October 15, 2015
The charismatic star urged the students to face their fears and admitted he had no qualms in doing the Funky Chicken in front of his teenage children's friends.
"Don't let your fears become boxes that enclose you. Open them out. Feel them and turn them into the greatest courage you are capable of. If you live by your fears everything that could go wrong will go wrong and you won't have even done the funky chicken," he said.
"Who says that what we call ourselves is any definition of who we really are?" he continued. "And that's lesson number six for you: All the names you give yourself, or those that others call you, are just labels. You are not defined by them no matter how flattering or uncomplimentary they are. What defines you is your heart. Ask The Artist Formerly Known As Prince!! And learn a thing or two from him, if you don't believe this insanely sexy Indian Superstar standing in front of you. And I say this out of experience because if I was to go by what all I am called on Social Media I would be an old desperate manipulative has been star who swings both ways while making crap movies, and these are just the good mentions."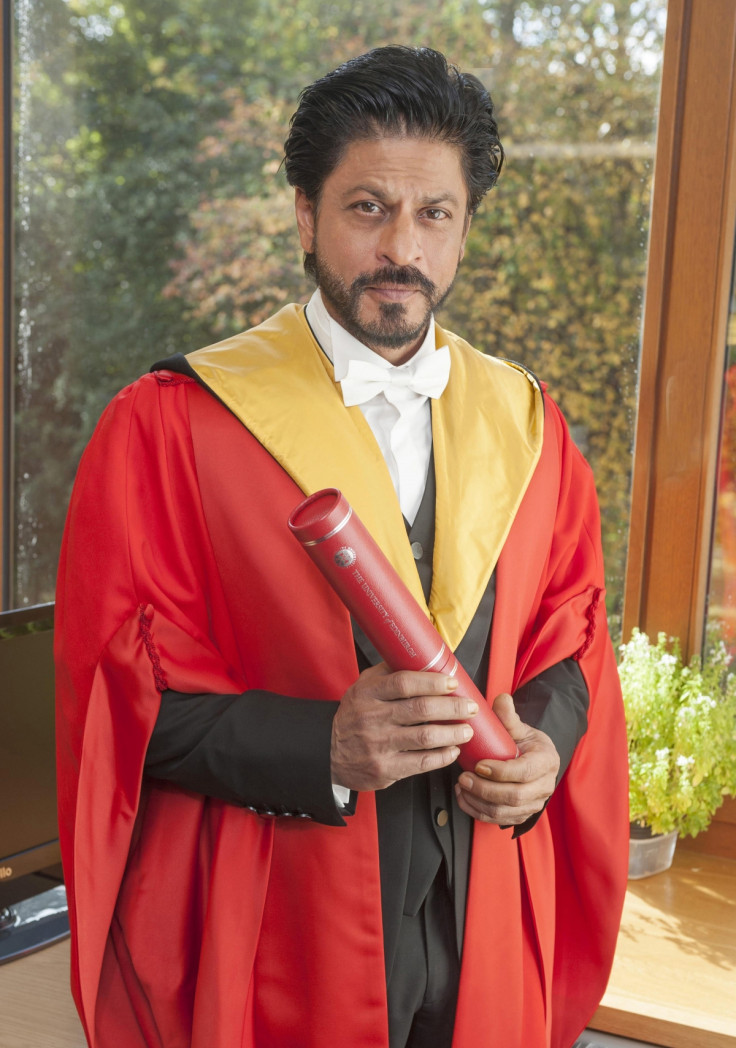 In his final life lesson Khan urged the students to embrace the present moment and to live for today, a poignant reminder that this life is fleeting. "I want to let you know how important your today ... your now is. Study hard. Work hard. Play harder. Don't be bound by rules. Don't hurt anybody and never live anyone' else's dream. Remember, however many times you go wrong, however many times you fail ... in the words of Bob Marley 'Everything's gonna be alright."
After the rousing speech, that, characteristic of the star, was at once profound, witty, self-deprecating and insightful, Khan joined a group of dancers in an impromptu performance of the 'lungi dance' made famous in his film Chennai Express.
However, an invitation for the children in the audience to join the actor on stage for a photo led to the Dilwale star being mobbed as the crowd stormed the stage for selfies and hugs with the superstar. Despite the obvious security breach and the mayhem that ensued, the actor made a point of posing with as many of the fans as possible before leaving the stage.
Writing on Twitter, Khan, who is afforded an honorary title of Dr for the second time, expressed his gratitude for the latest honour. "Her Royal Highness & Prof. Jeffery & Smith & all ur colleagues thank u for the Degree of Doctor Honoris Causa," he tweeted. He also recorded a video message on Facebook.
The hashtag #2ndDoctorateForKingKhan was trending on Twitter as fans took to social media to congratulate the newly appointed Dr. Shah Rukh Khan.