Two of the biggest stars on the planet shared the stage for the first time, as Bollywood superstar Shah Rukh Khan and teen idol Zayn Malik were honoured at the 5<sup>th Asian Awards.
It was the former One Direction star's first public appearance since he sensationally quit the band during the East Asian leg of their On The Road tour.
All eyes were on Malik at London's Grosvenor Hotel as he took to the stage to receive his award in recognition of his Outstanding Contribution to Music.
Sporting a new shorn look the 22-year-old said: "I'm not really a guy of many words normally. I don't normally do the speeches. I'm honoured to be sharing this stage with people who I have admired. I'd like to thank my mum and dad for making me Asian," he joked.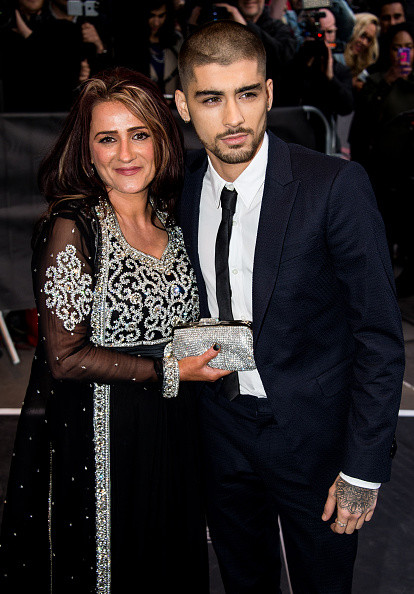 The singer also spoke of his former One Direction bandmates, fondly recalling the experiences he shared with them as one-fifth of the world's biggest boy band.
"I'd also like to take this moment to thank four of the best guys that I ever met whilst being in the band and doing all the amazing things that I did. Some of the things that we did will stay with me for the rest of my life and I'm thankful for that."
Malik ended his speech by saying: "Here's to the future."
While the singer was met by crowds of screaming girls, he also found a fan in arguably the world's biggest superstar, Shah Rukh Khan. The Bollywood actor, who is hailed as one of the 50 most powerful people in the world and has a global fan following of billions, joked that he had a "fan-man" moment when he met the ex-One Direction star.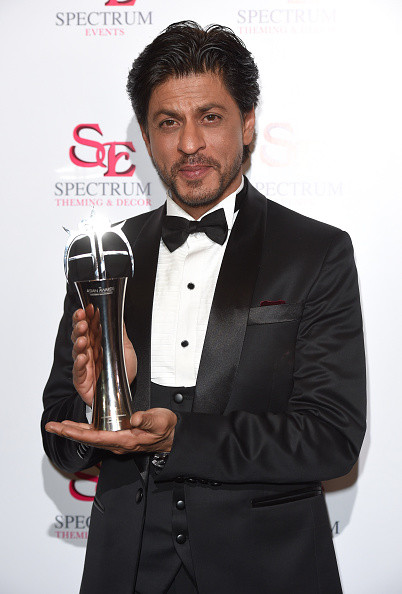 Speaking about their meeting he said: "I had my own fan-man moment when I went over to meet Zayn. He's a fine young boy. I spent some time with him. We just hugged each other. We didn't talk at all. And I'm so happy that I could meet his mother and his sister so I can show off a bit. But what advice should I give him. He is talented, he should work hard. Being part of a group or not being part of a group, I don't know the politics of all this. I'm too old for music groups, but whatever it is I think if you have the talent and if you have the gumption with all humility I think he's a great talent and I think he'll do very very well."
The actor, who was recently filming in the UK for his next film titled Fan, even took a moment to pose for a selfie with Malik and producer Naughty Boy.
Accepting the award for Outstanding Contribution to Cinema, Khan spoke to IBTimes UK of his own achievements in a career that has spanned 25 years and has won him recognition from the French government who bestowed him with their highest civilian honour and even had President Barack Obama quoting a line from one of the actor's hit movies.
In a candid conversation Shah Rukh Khan told IBTimes UK: "I've never really thought of what I'm achieving. What I'm doing. Whether I'm doing right, wrong, or there's a plan to it. What you do in the morning is just go out and work really hard and hope it turns out alright and you have to be really positive. I'm telling you honestly."
"Twenty-five years have passed I don't know how they've passed. I don't see my work and think about how I did it and try to emulate it all over again. It just happens. So for me it's very simple and basic. I don't understand my stardom. I don't understand the fame. I don't understand the monies. I don't understand where I am and where I'll end up and to be really honest with you, it doesn't bother me.
"To me what matters is that I can wake up in the morning and create one moment of goodness, happiness or entertainment that's all I want to do. I keep it very, very simple. I don't know how all this has happened," he said with characteristic humilty.
Accepting his award, the charismatic actor said he was honoured to share the stage with British stars such as Gary Lineker and gave shout-outs to fellow nominees and friends Sanjeev Bhaskar and Malik.
"I am extremely humbled and honoured to receive this award. I say this very often that my stardom belongs to most South East Asians who reside abroad who have made the Indian cinema and me known around the world. I congratulate all the winners at the Asian Awards as well. There is so much talent around Asia and so many achievers, whether it was Dr Amar Bose, the Hinduja Brothers or Zayn Malik. I am glad to have been a part of such a wonderful celebration of hard work by people in difference field but similar passion."
Founded by Paul Sagoo, The Asian Awards celebrates the outstanding achievements of individuals born in or with direct origin from across Pan-Asia in all disciplines of life – from business and the arts, to sport and public service.
A host of stars, business leaders and politicians attended the lavish event at Grosvenor House hotel hosted by Gok Wan including John Rocha, Gary and Danielle Linekar, The Hindujas, Lydia Bright, Gurinder Chadha, Casey Batchelor, Ollie Locke, Sanjeev Bhaskar, Meera Syal, Shabana Azmi, Michelle Collins, Nick Moran, Preeya Kalidas, Anna Williamson, Kelly Hoppen, Anita Rani, Colin Jackson and singer Cerys Matthews.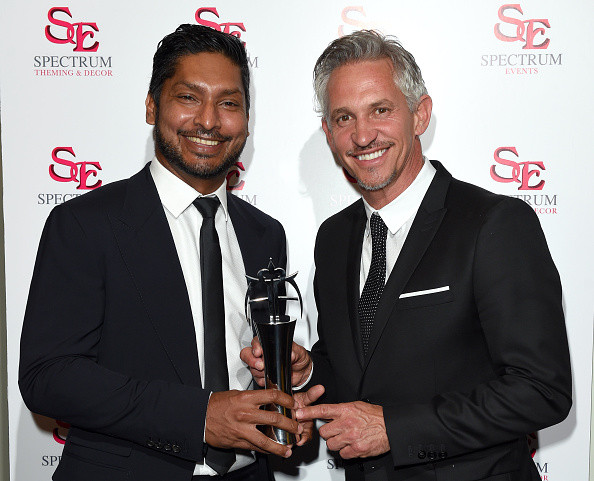 Picking up the award for Outstanding Contribution to Sport was Sri Lankan batsman Kumar Sangakkara, while the Outstanding Achievement in Television award went to comedian, actor and broadcaster, Sanjeev Bhaskar. The Hinduja brothers were awarded Business Leaders of the Year.
Speaking about the event Paul Sagoo said: "We are absolutely thrilled with the staggering success of The Asian Awards this year and the remarkable level of support we've received. From Prime Minister David Cameron to global superstars like Zayn Malik and Shah Rukh Khan, joining us for this superb gathering of some of the world's most inspirational and powerful people.
"I'm so proud of the way The Asian Awards are evolving. They have truly grown into a voice for the Pan Asian community to celebrate its own success – as well as become a way to share the stories and achievements and lives of these great people with the world, to inspire the millions of us who strive to be the best we can."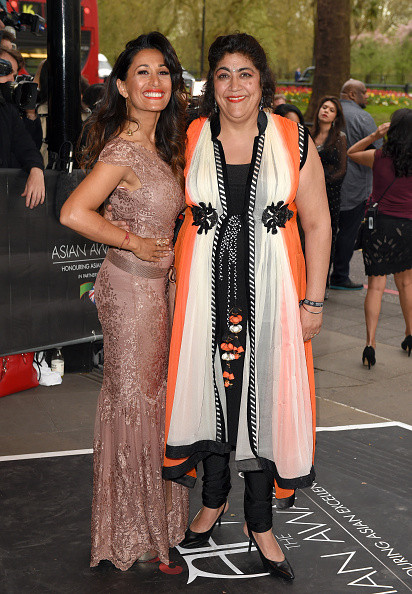 Previous winners at The Asian Awards include Sir Ben Kingsley, Jackie Chan, Sachin Tendulkar, Bruce Lee, Sir David Tang, Freddie Mercury and Ahmed Kathrada who was jailed alongside Nelson Mandela on Robben Island in the fight against apartheid.
The panel of judges is made up of key business people, cultural leaders and eminent political figures, led by the prominent Asian entrepreneur Lord Bilimoria of Chelsea. Judges include, Michelle Mone OBE; Philip Bernie, BBC's Head of Sport; Gurinder Chadha, Film Director and Matthew Freud, CEO Freud Communications.
The event also featured a stunning performance from the cast of Bend It Like Beckham - The Musical.