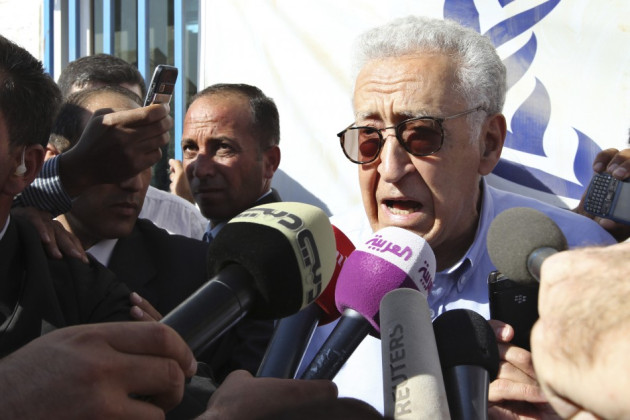 A series of bombs have hit security forces and pro-government militias in the Palestinian Branch of Syrian Intelligence in Damascus.
The bombs detonated near a school building in the south-east of the capital, killing and wounding several people. Activists claim that a general and two colonels are among the dead.
Two rebel groups, the Damascus Revolutionary Council and the so-called Prophet's Grandchildren Brigades, claimed responsibility for the attack
"Dozens of officers and shabbiha [regime militias] were killed in the blast," a spokesperson for the Prophet's Grandchildren Brigades told Al Arabiya.
"At exactly 9:35 a.m., seven improvised devices were set off in two explosions to target a school used for weekly planning meetings between shabbiha militias and security officers," said Abu Moaz, a leader of Ansar al-Islam, another of the rebel groups that have joined the 18-month-old revolt against President Bashar al-Assad, told Reuters.
The rebel groups said that one of their men put the explosives inside the fuel tank of the branch.
Meanwhile, the new UN peace envoy to Syria, Lakhdar Brahimi, told the UN Security council that the situation in Syria is getting worse.
However, he said he had warned Syria's embattled president Bashar al-Assad that reforms are not enough to solve the crisis.
"I refuse to believe that reasonable people do not see that you cannot go backward, that you cannot go back to the Syria of the past," he said. "I told everybody in Damascus and everywhere that reform is not enough anymore, what is needed is change."
He admitted that he had no "full plan for the moment", only "a few ideas".
In another development, Israel filed a complaint with the United Nations forces responsible for the Golan Heights border region, where Syrian mortar rounds were fired in Israeli territory.
"Earlier this morning several mortar shells landed in the Golan Heights, causing no damage or injuries," a spokesman said.
"The shells were aimed at villages inside Syria and are part of the ongoing internal conflict."