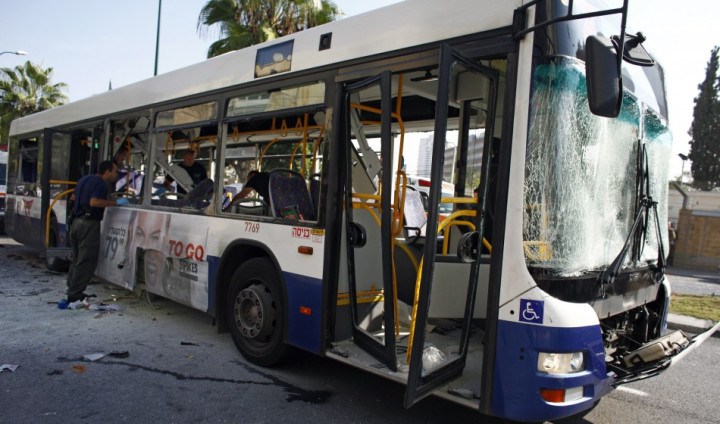 A bomb attack on a Tel Aviv bus that police suspects being a terrorist attack wounded 24 people, one seriously.
An "apparent explosion" on a Tel Aviv bus was first as been reported by the Israeli ambulance service.
"A bomb exploded on a bus in central Tel Aviv. This was a terrorist attack. Most of the injured suffered only mild injuries," said Ofir Gendelman, a spokesman for Prime Minister Benjamin Netanyahu.
In Gaza celebratory gunfire was fired and loudspeakers from a Mosque said Hamas' armed wing, the Al Qassam brigades, was behind the bomb.
However, despite celebrating the attack, Hamas spokesman Sami Abu Zuhri did not claimed the responsibility.
"Hamas blesses the attack in Tel Aviv and sees it as a natural response to the Israeli massacres...in Gaza," he told Reuters.
"Palestinian factions will resort to all means in order to protect our Palestinian civilians in the absence of a world effort to stop the Israeli aggression," Abu Zuhri said.
"We told you IDF that our blessed hands will reach your leaders and soldiers wherever they are, "You opened the Gates of Hell on Yourselves," Al Qassam tweeted later.
Reports that Israeli security forces held a man have been denied by police that is looking for two suspects.
The blast occurred reportedly near a Israeli Ministry of Defence building, on the corner of Shaul Hamelech and Henrietta Szold Streets.
However "the target of the terrorist bombing was a regular metro bus and its civilian passengers, not the Israeli Ministry of Defense," Gendelman said.
Eyewitnesses said it was not a suicide attack since they saw a terrorist planting an explosive before running away, Haaretz reported.
The wounded have been taken to Tel Aviv's Ichilov Hospital.
It was the first serious terrorist attack in Isreal's most populated city since a bomb killed 11 in 2006.
Israel has intensified its bombardment of Gaza as talks to bring a ceasefire to the week-long violence have yet to yield any concrete results.
Scores of explosions have rocked the Gaza Strip, killing at least 26 Palestinians on Tuesday, as Israel Defense Forces (IDF) unleashed fresh attacks on multiple targets. Israel also dropped leaflets urging the Gaza villagers in key areas to evacuate and move to safer places.
Gaza militants fired 23 rockets into Israel, 12 were intercepted by the the Iron Dome defence missile system.
The arrival of US Secretary of State Hillary Clinton in Cairo has so far made little difference to the violence in the region. Clinton has been holding late-night talks with Israeli Prime Minister Benjamin Netanyahu in an attempt to broker a ceasefire, and is about to hold talks with Egyptian President Mohammed Mursi.
Clinton said: "The goal must be a durable outcome that promotes regional stability and advances the security and legitimate aspirations of Israelis and Palestinians alike. America's commitment to Israel's security is rock-solid and unwavering. That is why we believe it is essential to de-escalate the situation in Gaza."
MORE FOLLOWS...