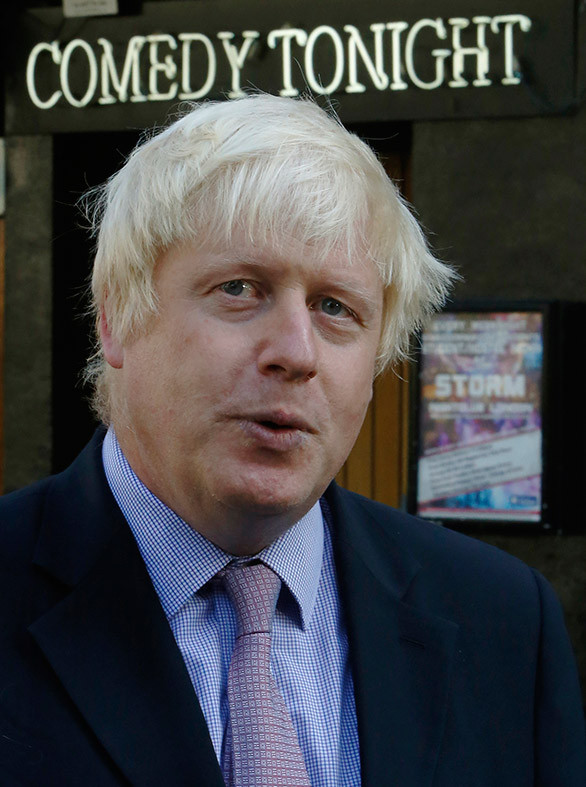 "You find no man, at all intellectual, who is willing to leave London. No, Sir, when a man is tired of London, he is tired of life; for there is in London all that life can afford."
This famous quote is not one by Boris Johnson but, of course, Dr Samuel Johnson. Although I'm certain it is a sentiment which the younger Johnson shares and could well be the reason that the Mayor of London declined the opportunity to throw his hat in the ring and stand against renegade Douglas Carswell in faraway Clacton.
Mr Carswell resigned his House of Commons constituency seat of Clacton, Essex, on 28 August 2014 and defected to the UK Independence Party (UKIP), led by Nigel Farage. A strong Eurosceptic, Mr Carswell claims that Prime Minister David Cameron and those near the top of the Conservative Party, do not really mean what they tell Party members on matters like immigration control, cutting the deficit and forcing European Union (EU) reform. Many like him are of the opinion that despite promising an EU Referendum by 2017, David Cameron et al, are really pro-European at heart and do not want Britain to leave.
There might be much truth in all this but short of an unequivocal commitment by the Prime Minister to abrogate all our treaties with Brussels and take the UK out of the EU, Mr Carswell was going to jump ship anyway. Besides, even if the PM and possibly a majority in the Conservative Party want simply a Trade Agreement with the rest of Europe, Mr Cameron and Co are forced to deal with the hand they have got in the real world. President Obama reminded him of that fact not so long ago when he gave his backing to a united United Kingdom.
This is way above the political fray in Clacton however, where Mr Carswell's defection came as something of a shock. The very popular MP is standing in the by-election that he has now forced and which will be held on 9 October, as the UKIP candidate. He must be very sure of victory! In so doing he has pushed out the previously selected 2015 General Election UKIP candidate, Roger Lord.
Mr Lord, previously like most other UKIP activists a Conservative, resigned his County Council seat and from his new party in disgust. His treatment has sparked much local sympathy, irrespective of political persuasion. He says he will now support the Liberal Democrats!
Currently there are seven candidates with the Conservatives choosing actor Giles Watling on 11 September. The deadline for nominations is 1600 on 16 September.
Perish the thought that what really stopped the London Mayor from squaring up to Mr Carswell was the 53 per cent of the vote and 12,000+ majority he defends in October, or that the most recent polls suggest UKIP will romp home with over 60 per cent of the vote against 22 per cent for the Conservatives in second place.
I liked to think that Boris would see out his full term as London Mayor before embarking on furthering his political ambitions, after all, some 2014 estimates put the city's population at 8.5 million. An opportunity arose during the summer which meant that Mr Johnson didn't have to leave London at all.
On 9 July this year, Uxbridge and South Ruislip MP Sir John Randall, announced that he would stand down at the next general election in 2015, which immediately started rumours that Boris would seek to re-enter Parliament in this "safe" Tory seat. Initial soundings in the constituency were not encouraging with a two-to-one margin against but it was too good an opportunity to miss and a late nomination (26 August) was made by Mayor Johnson.
On 12 September it was widely reported in the media that the Mayor's bid had been successful and that he had been selected to stand for the Conservatives at the next general election. The Telegraph wrote:
"The Mayor of London defeats three others in a secret ballot...
"The London Mayor saw off the challenge of three rivals to secure the support of party members...as their pick for 2015."
One can feel sorry for the losing candidates and the paper, like many others, failed to mention just how little real support Mr Johnson had immediately before the selection committee met.
Albeit a readers' poll by local press getwestlondon and published on 11 September, put Windsor and Maidenhead Councillor Simon Dudley on 40 per cent followed by Hillingdon Councillor David Simmonds on 34 per cent, with Boris a rather forlorn third with 15 per cent. Mr Johnson has a lot of persuading to do, not made easier by his stance against further expansion at Heathrow where many of his prospective constituents work.
On 2 September, Sir Howard Davies' Airports Commission ruled out the possibility of a Thames Estuary airport for London. Mr Johnson called the decision "irrelevant" and a third runway at Heathrow "political kryptonite".
The problem with "Boris Island" is its distance from the capital – I remember Maplin falling down for the same reason – and the enormous infrastructure that would be required to bring passengers to the capital and make them feel that they were not at a Ryanair concept of the local airport. Not to mention the cost, some quotes now reaching £100 billion.
Ever heard of Montreal – Mirabel International Airport? Opened in 1975 on 17,000 acres of what had been farm land, it was planned to handle at least 17 million passengers by the mid 80s and have no less than six operational runways. Problem – only 34 miles from Downtown Montreal, unlike Dorval (Pierre Elliott Trudeau International Airport) at only 12 miles. Passengers had no wish to travel that far out, even with its motorway, and airlines diverted to Toronto.
The most passengers Mirabel handled in a year was just under three million. Its last major hotel closed in 2002 and final commercial passenger flight was to Paris in October 2004. On 16 September 2014 a contract will be awarded to tear down the terminal building. Mirabel is now a cargo airport.
London is a big city and needs a big airport but to remain a world airport which earns revenue for the country as like an export, is not a given and already the city's airports lose large numbers of passengers to Paris and Amsterdam – and both these cities are hungry for more!