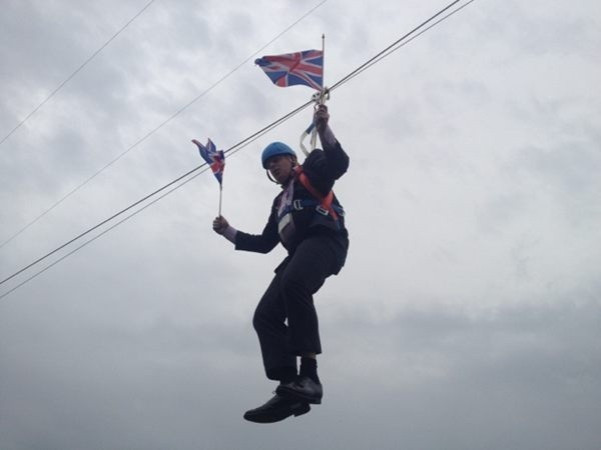 London's Conservative Mayor Boris Johnson was left red-faced when an attempted a zip-line entrance to a BT Live event in Hackney.
Johnson aimed for a dramatic entrance in front of the Hackney crowd, as he zoomed overheard with a flag in each hand.
Unfortunately the effect was less than spectacular, as he gradually lost momentum and was left dangling 20ft above the crowds, limp flags in hand, under a grey sky - surely an image of Britishness every bit as iconic as Danny Boyle's opening ceremony.
Eventually staff at the event had to be called over to drag the mayor the rest of the way along the wire.
The crowds couldn't help but laugh as the mayor lived up to his own accident-prone caricature. Lee Medcalf, who posted an image of the mayor on Twitter, wrote: "Boris Johnson stuck on a zip wire in Victoria Park. Hanging 20ft up doing b*gger all. That's brightened my day."
Apparently the mayor stayed upbeat throughout, waving his flags and calling for a rope and a ladder.
Johnson "remained unbowed" by the incident, according to a spokesman, who added: "The judges will rightly be marking him down for artistic impression."
Watch video footage of the disastrous entrance, courtesy of ITV News.