Britain's new foreign secretary Boris Johnson will attempt to woo John Kerry as the US Secretary of State visits London today (19 July). The top diplomats are expected to discuss the "importance of the Special Relationship" after the UK voted to split from the EU in a 23 June referendum.
Johnson, who landed himself in hot water for claiming US President Barack Obama had an "inherent distrust" of the UK because of his "part-Kenyan" heritage, has since stressed that America would be at the "front of the queue" when it came to trade and other negotiations.
The senior Conservative plans to host of meeting of his German, French and Italian counterparts, and the EU High Representative Federica Mogherini, to discuss the Syrian civil war.
"We must be more active, more engaged and more outward-looking, so I am delighted to have this early opportunity to welcome my international counterparts to London for important meetings on the conflicts in Syria and Yemen," Johnson said ahead of the discussions.
"I will be making clear my view that the suffering of the Syrian people will not end while Assad remains in power. The international community, including Russia, must be united on this."
The session will focus on the dire humanitarian situation, and the conditions needed for parties to resume UN backed talks, according to the Foreign Office.
Johnson will later join Kerry at a meeting with other foreign ministers from Saudi Arabia and UAE to discuss the conflict in Yemen. The top Tory will then travel to Washington DC on Thursday to attend a series of meetings with international counterparts on tackling the self-styled Islamic State (IS).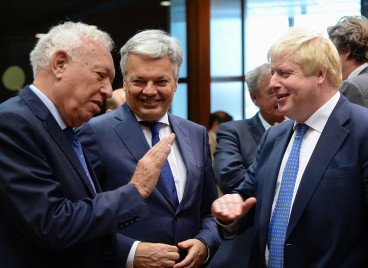 The talks come after Johnson, the chief Vote Leave campaigner in the EU referendum, attended his first EU Foreign Affairs Council in Brussels yesterday.
"Clearly the message I'll be taking to our friends in the Council is that we have to give effect to the will of the people and leave the European Union but that in no sense means that we are leaving Europe," he said ahead of the meeting.
"We are not going to be in any way abandoning our leading role in European cooperation and participation of all kinds."
The UK's new Prime Minister Theresa May, who campaigned for Remain, has stressed that "Brexit means Brexit". But it is currently unclear when the government will trigger Article 50 of the Lisbon Treaty, the mechanism to split from Brussels.
Brexit Secretary David Davis, who will be leading negotiations with the EU, reportedly said the government would trigger Article 50 of the Lisbon Treaty, the mechanism to split from Brussels, "before or by the start of next year". The comments mean the UK could split from the EU in 2019 since the exit negotiations are expected to take around two years.