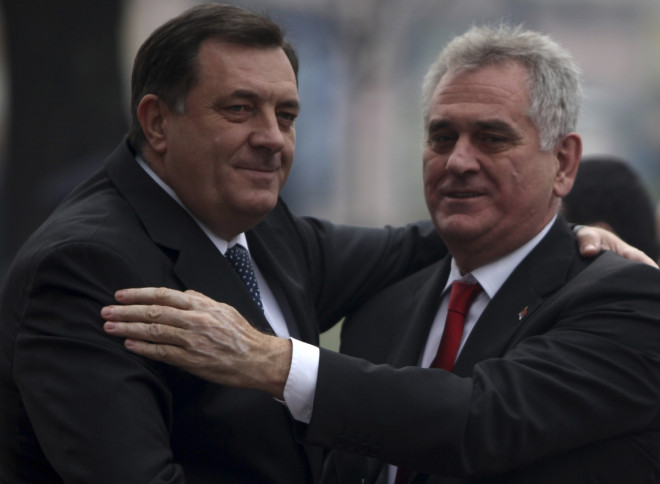 The leader of Bosnia's autonomous Serb Republic, Milorad Dodik, has threatened to hold a referendum on secession if Bosnia does not become a confederation of three states.
Ahead of key elections in October, Dodik, who has been ruling the Serb Republic (Republika Srpska) for eight years, has seized on the Crimean referendum and subsequent Russian annexation as an example of self-determination in action.
"Our next step is the opening of a dialogue on the restructuring of Bosnia as a confederation consisting of three states," he told a news conference in the Serb Republic's administrative centre, Banja Luka.
"If this proves impossible, Republika Srpska retains the right to hold a referendum on its status."
In 1992, Bosnia became the major battleground in a violent and bitter multi-sided war. According to official estimates, 100,000 people were killed during a conflict in which Bosnian Serb forces carried out ethnic cleansing against Bosnian Muslims across a large part of the country in an effort to create an homogenous Serb territory joining Serbia to Serbian Bosnia and Croatia.
The peace agreement which ended the 1992-95 war, signed in Dayton, Ohio, split the country into two autonomous entities: the Bosnian Federation - populated mainly by Bosniaks and Croats - and Republika Srpska.
However, Dayton also created the seeds of a future crisis. It was based on a decentralised and dysfunctional system of power-sharing that has effectively paralysed central government, scared investors, blocked economic policy and denied prosperity.
The Bosnian Serbs have resisted reforms at state level and slowed moves towards the EU and Nato. Dodik undermined efforts to consolidate Bosnia as a unitary state, even calling for Republika Srpska to separate from Bosnia and join Serbia.
In an interview with IBT, Paddy Ashdown, the international community's former high representative in Bosnia, said that all progress on steering the country towards becoming a modern and functional state had been allowed to unravel.
"Tragically, disastrously, stupidly the European Union took their foot off the brake and decided that we didn't have to use any influence and leverage any longer," he said.