Shootout between police and two heavily armed suspects in Watertown, Boston.
Boston on lockdown. Authorities urged all Boston residents to stay indoors
Boston Marathon bombings suspect, identified as Dzhokhar Tsarnaev, is in police custody
Second suspect Tamerlan Tsarnaev killed in shootout with police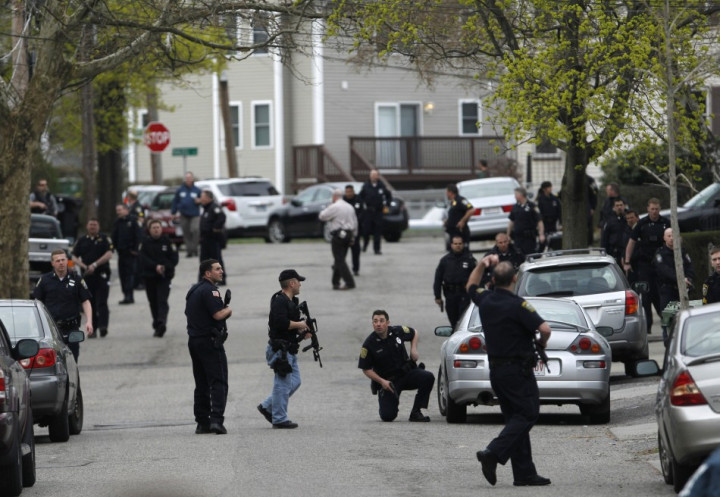 Police launched a manhunt for two men, after a police officer was shot and killed at a campus of the Massachusetts Institute of Technology in Cambridge.
According to several media reports the two suspects are the same as those depicted in photos released by the FBI in connection with the Boston marathon explosions which killed three people and left several others severely injured.
The officer had been responding to reports of a disturbance on Thursday night when he was shot multiple times, according to a statement from the Middlesex district attorney's office and Cambridge police.
Live updates, as events unfolded. Read from foot of page to follow events in sequence
01:43 GMT: The manhunt is over. 19-year-old Boston marathon bombings suspect Dzhokhar Tsarnaev is in police custody. An ambulance has been called to the scene.
"Suspect in custody. Officers sweeping the area," Tweeted the Boston police department.
00:52 GMT: Multiple shots are heard at the scene.
00:45 GMT: Authorities believe the man in the boat is 19-year-old Dzhokhar Tsarnaev, sources told WCVB. He is reportedly moving.
00:25 GMT: A man, believed to be the suspect, surrounded by police in a boat sitting in a residential backyard in Watertown, media reports. Shots heard at the scene.
19:32 GMT Police now saying they have the '99 Honda Sedan.
19:29 GMT A sister of the suspect named Alina Tsarnaev has released a statement:
They were great people. I never would have expected it. They are smart - I don't now what's gotten into them.
19:12 GMT Boston Police seeking MA Plate: 116-GC7, '99 Honda Sedan, Color - Green. Possible suspect car.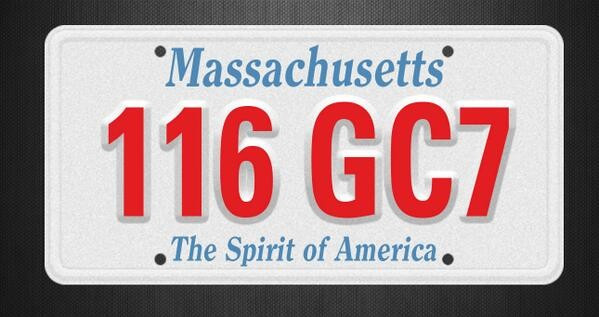 19:03 GMT
The Boston Globe published a statement from the family of Sean Collier, the officer who was slain on Thursday night.
"We are heartbroken by the loss of our wonderful and caring son and brother, Sean Collier," the Collier family said in a statement. "Our only solace is that Sean died bravely doing what he committed his life to - serving and protecting others. We are thankful for the outpouring of support and condolences offered by so many people. We are grieving his loss and ask that the media respect our privacy at this time."
18:57 GMT A total of 15 police officers have been taken to St Elizabeth's Hospital and treated for minor injuries. They have been released.
18:40 GMT: National Guard blackhawk helicopters join the manhunt for Boston marathon bombing suspect Dzhokhar Tsarnaev.
18:22 GMT: The FBI is at the New Jersey home of the sister of the Boston Marathon bombing suspects, AP reports.
Alina Tsarnaeva told the Star-Ledger of Newark that her two brothers are smart and great people. She says she doesn't know what got into them.
Police is hunting down Dzhokhar Tsarnaev. His brother Tamerlan was killed in a shootout with police earlier this morning.
18:13 GMT: A member of the US House Intelligence Committee said Dzhokhar and Tamerlan Tsarnaev, the two brothers accused of the Boston Marathon bombing, had collected pipe bombs, grenades and improvised explosive devices before they confronted police this morning.
Congressman Dutch Ruppersberger said Dzhokhar hurled some of the devices at police as he drove away in a stolen car.
"They clearly amassed a small arsenal of explosives," Ruppersberger said.
18:03 GMT: Federal Homeland Security police officers stand guard at Government Center in Boston, Massachusetts. The city is deserted.
17:57 GMT: a map shows the areas of Boston affected by the manhunt.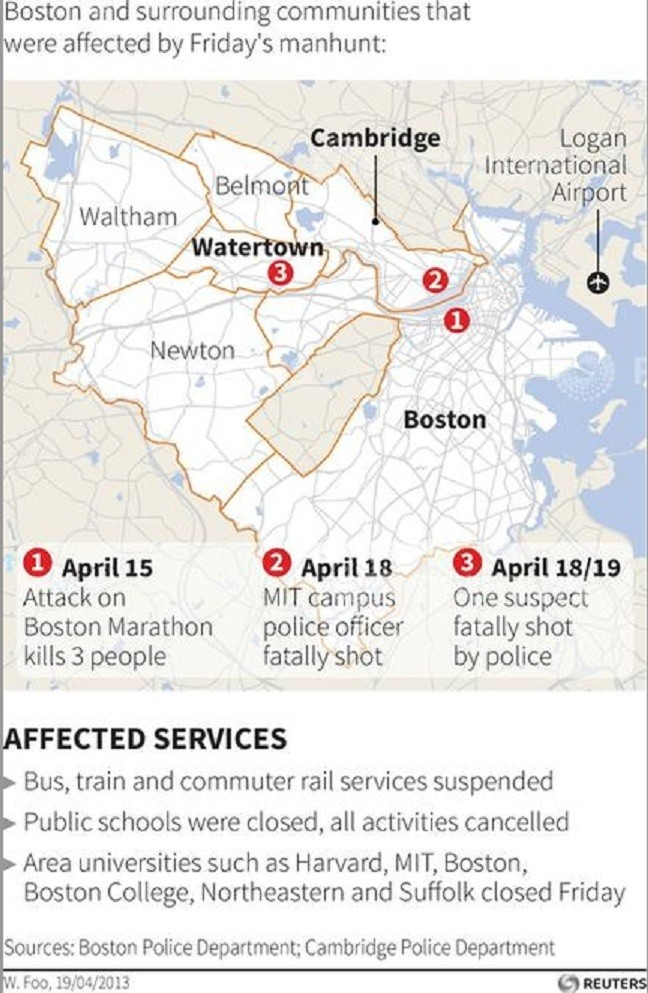 17:44 GMT: Police superintendent Timothy Alben said there have been new developements in the last few minutes. Alben said new leads are being followed but did not elaborate.
"We've got several other new leads that just developed in the last few minutes and we're working on that," Alben said.
Police will be doing a controlled explosion at a house in Cambridge, acting on an "abundance of caution," Alben said.
Alben said police have covered 60 to 70 percent of the area they wanted to search.
Officers going door-to-door, but Boston Marathon suspect still on loose.
17:36 GMT: "We want to thank the members of the public who have respected request to stay indoors" Massachusetts governor Deval Patrick said. He repeated the appeal to stay.
17:16 GMT: Massachusetts State Police said Dzhokhar and Tamerlan Tsarnaev spent the night in a Honda CRV and used it to carjack a Mercedes SUV.
17:03 GMT: The uncle of the two brothers suspected for the Boston marathon bombings held an emotional press conference.
Ruslan Tsarni described Dzhokhar Tsarnaev and his late brother Tamerlan as "losers" for what they did.
"We are ashamed, of course we are ashamed," the man said. "I respect this country. I love this country. This country gives chance to everybody else.
"It is an atrocity, we are shocked."
The man, who lives in the US, said somebody radicalised his nephews but it wasn't his brother. He was too busy bringing "bread on their table" he said.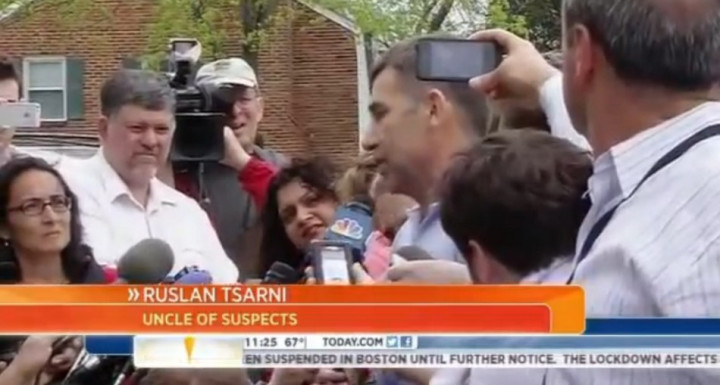 16:53 GMT: FBI release wanted poster for Boston bombing suspect.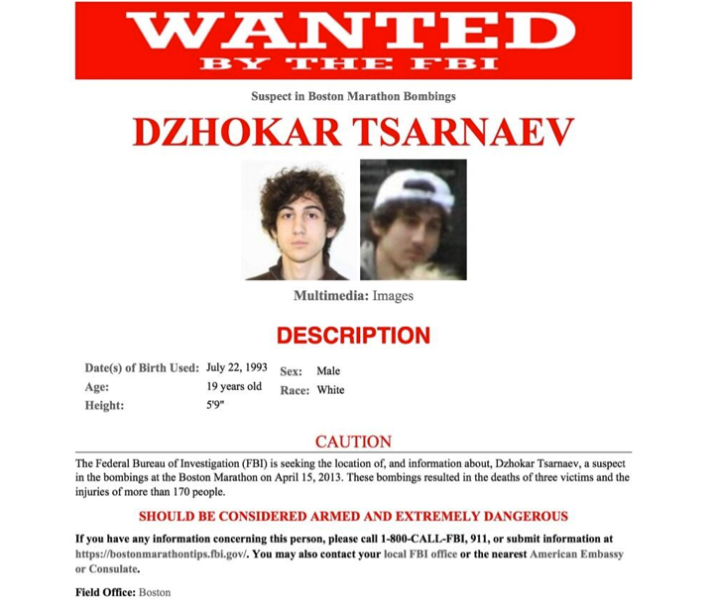 16:45 GMT: The appeal to surrender has been repeated by the 'Dzhokhar Tsarnaev's uncle.
"Turn yourself in, and ask forgiveness," the man said.
16:43 GMT: The suspect's father, Anzor Tsarnaev, called for his son to surrender, ABC news reported.
"Give up. Give up. You have a bright future ahead of you. Come home to Russia," the man said.
Tsarnaev told ABC he spoke to his two sons on the phone after the Boston marathon bombing.
Anzor "We talked about the bombing. I was worried about them," he said.
"Everything is good, Daddy. Everything is very good," they told him.
16:39 GMT: "I think it is fair to say this entire week we have been in pretty direct confrontation with evil," US Secretary of State John Kerry said.
"In the past few days we have seen the best and we have seen the worst of human behaviour and it is the best that all of us really want to focus on."
16:35 GMT: The transformation of a quiet 19-year-old student on a college scholarship into one of America's most wanted terrorists continues to arouse the disbelief of people who knew him. Read more here.
16:28 GMT: Chechnya warlord president Ramzan Kadyrov dismissed links between the Boston bombing suspects and the region.
"Any attempt to link the Tsarnaevs with Chechnya is in vain," Kadyrov wrote in a statement. "They grew up in the United States and their views and their credo was formed there. Therefore you need to look for roots of evil in America."
The head of the Russian Republic of Chechnya has been accused by human rights activists of the systematic kidnap, torture, murder of opponents and other human rights violations.
16:12 GMT: The manhunt for Dzhorkhar Tsarnaev continues. Authorities are reportedly focusing on Watertown, where his brother Tamerlan was shot dead earlier this morning.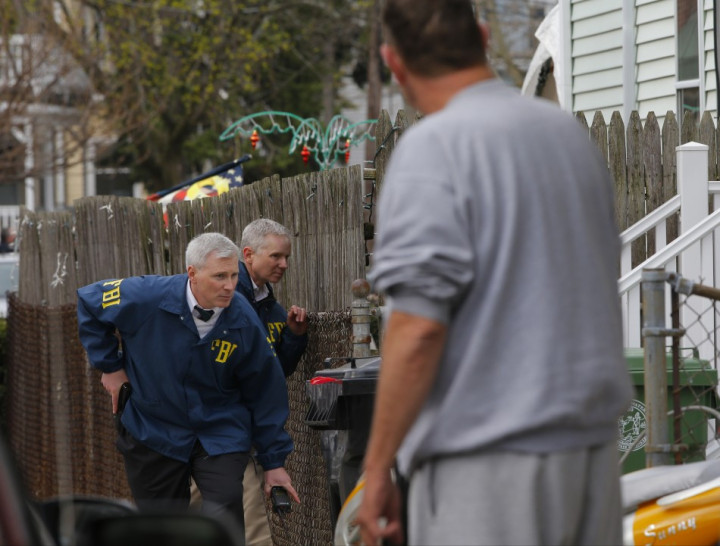 15:59 GMT: Several suspicious packages reported around Boston.
"Reports of suspicious packages are not threats. These are reports of what people see as suspicious items so that we can respond/investigate," Cambridge police explained with a tweet.
15:49 GMT Journalists and media have been pushed back very quickly by police officers under bomb threat on Arsenal and School Streets. Police screamed at press to get back. "You're gonna get hurt"
15:16 GMT Another picture of Dzhokhar Tsarnaev, on the left: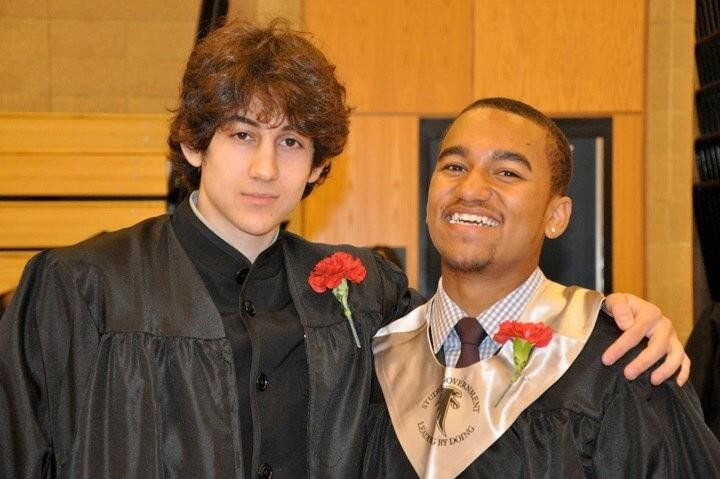 15:11 GMT Authorities have urged students at UMass Dartmouth to take shelter where they are, after one of the suspected Boston Marathon bombers was identified as a student.
15:06 GMT Authorities are looking for a Honda CRV Mass License Plate: 316 ES9, according to WCVB. The suspect could be inside the vehicle.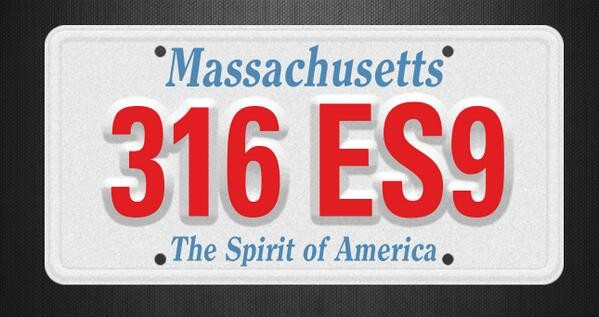 15:02 GMT A picture of an empty Kenmore Square in Boston. The city is in lockdown.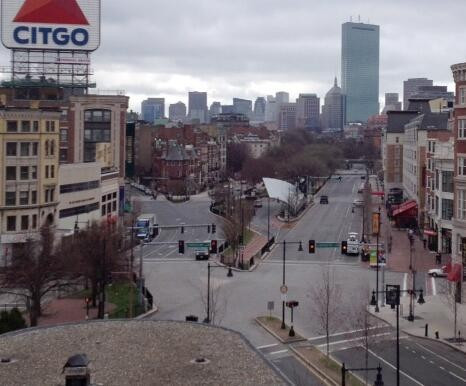 14:38 GMT MIT police officer killed in confrontation with terror suspects has been named as Sean Collier, 26, of Somerville.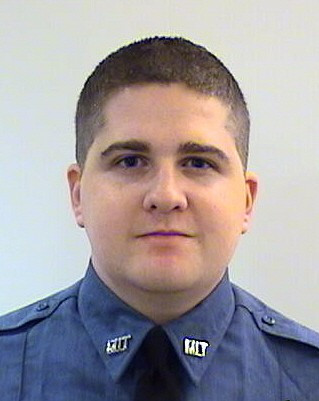 14:34 GMT The family of missing Brown University student Sunil Tripathi, wrongly identified as one of the Boston bombing suspects, has released this statement on Facebook:
A tremendous and painful amount of attention has been cast on our beloved Sunil Tripathi in the past twelve hours.

We have known unequivocally all along that neither individual suspected as responsible for the Boston Marathon bombings was Sunil.

We are grateful to all of you who have followed us on Facebook, Twitter, and Reddit-supporting us over the recent hours.

Now more than ever our greatest strength comes from your enduring support. We thank all of you who have reached out to our family and ask that you continue to raise awareness and to help us find our gentle, loving, and thoughtful Sunil.
14:28 GMT: Suspect is believed to be armed with assault rifles and other weapons including bombs. Police are worried he could be wearing a suicide vest, media reported.
14:25 GMT: The high school class president of Boston Marathon bombing suspect, Dzhokhar Tsarnaev described him as the "sweetest kid."
He was a very sweet kid in high school, she told WCVB televison. "Normal; nothing weird about him.
"As far as I knew he wouldn't even hurt a fly. Everyone [who knows him] is in disbelief."
14:15 GMT: Massachusetts state police have released another picture of Boston Marathon bombing suspect Dzhokhar Tsarnaev, 19.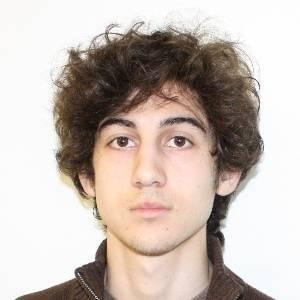 14:07 GMT: Dzhokhar Tsarnaev and his brother Tamerlan had been living in the US for about 10 years, their uncle reportedly said.
14:06 GMT: The father of Boston bombing suspect says his son is an accomplished medical student and "a true angel," AP reported.
"My son is a true angel," Anzor Tsarnaev, who lives in the Russian city of Makhachkala, said. "Dzhokhar is a second-year medical student in the U.S. He is such an intelligent boy. We expected him to come on holidays here."
13:57 GMT: A high school classmate of Boston Marathon bombings suspect Dzhokhar Tsarnaev, 19, told WCVB she couldn't believe the news when she heard the man was behind the terrorist attacks.
He was really good in maths and planned to keep on studying at college, she said.
13:48 GMT: Police are calling to the house in Watertown through loudspeakers, not far from the site of this morning's shootout, the Boston Globe reported.
13:44 GMT: Police is reportedly converging to a specific home in Watertown, Boston.
13:36 GMT: More pictures from the manhunt for Dzhokhar Tsarnaev, 19. Police are searching house-to-house.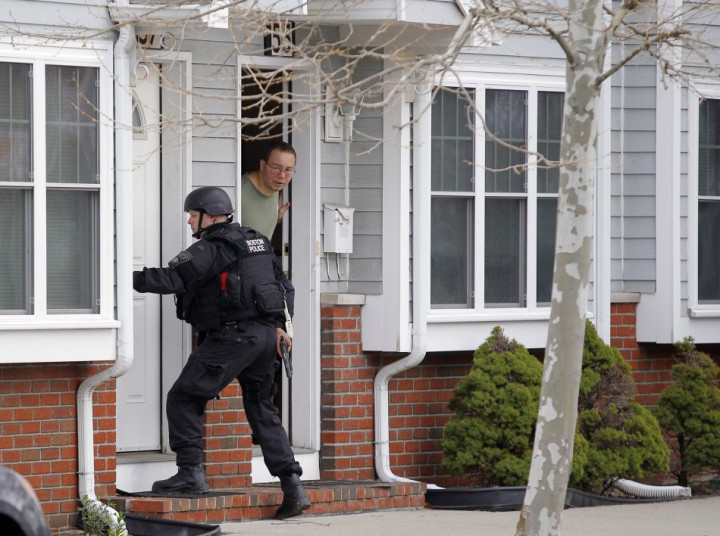 13:28 GMT: Boston police has released a new picture of Boston Marathon bombing Dzhokhar Tsarnaev, 19.
"#WANTED: Suspect identified as 19 year-old Dzhokhar Tsarnaev of Canbridge. Suspect considered armed & dangerous," the Boston police department tweeted.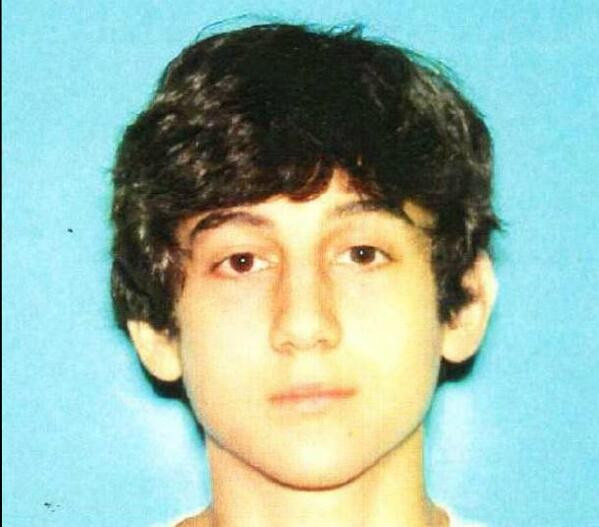 13:25 GMT: Three different law enforcement sources said that the uncle of Boston Marathon bomb suspects has confirm the men were brothers, AP reported.
13:24 GMT: A law enforcement bomb technician is depicted as he prepares a controlled detonation of a suspicious object during a search for a suspect in the Boston Marathon bombing.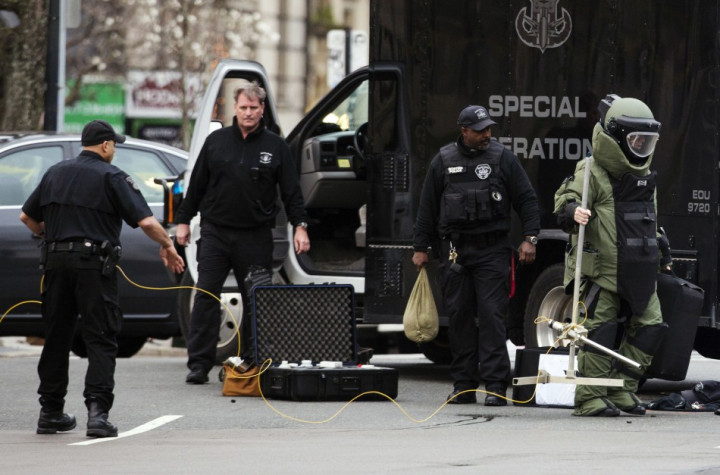 13:20 GMT: The "massive manhunt" for Boston Marathon bombing suspect Dzhokhar Tsarnaev, 19, continues.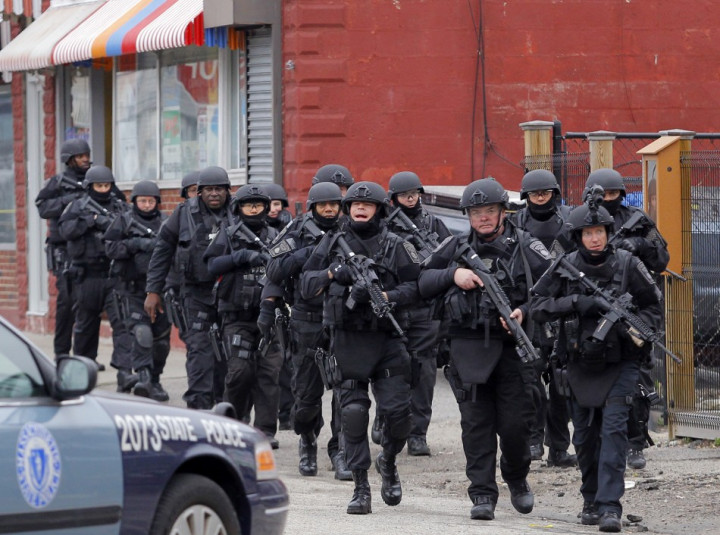 13:17 GMT: All taxi service in the City of Boston has been suspended pending further notice, police said.
13:12 GMT: More information about the Boston bomber Tamerlan Tsarnaev, 26, who was killed in a shootout with police earlier this morning, here. He reportedly was a boxer.
His brother Dzhokhar, 19, is still at large and being sought by police.
13:08 GMT: "We are making significant progress," police said.
13:07 GMT: Authorities urged all Boston residents to stay indoors. "This is a massive manhunt," said Massachusetts governor Deval Patrick.
We are Asking people to stay indoors with the door locked," Patrick said.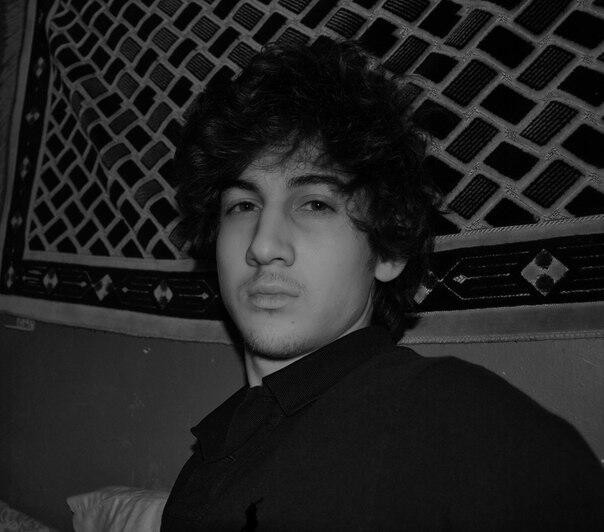 12:52 GMT: "We believe this man to be a terrorist," said Boston Police Commissioner Ed Davis referring to the suspect on the run, earlier this morning. "We believe this to be a man who's come here to kill people."
12:48 GMT: According to the New York Times, law enforcement officials identified a second suspect who died in a shootout with police earlier this morning as Tamerlan Tsarnaev, 26, brother to Dzhokhar A. Tsarnaev, 19.
12:42 GMT: After carjacking the SUV in Cambridge, the two suspects identified themselves to the driver as the marathon bombers, WCVB reports
12:33 GMT: The suspect identified as Dzhokhar Tsarnaev is seen walking past eight-year-old Martin Richard, the youngest victim of the Boston Marathon bombings.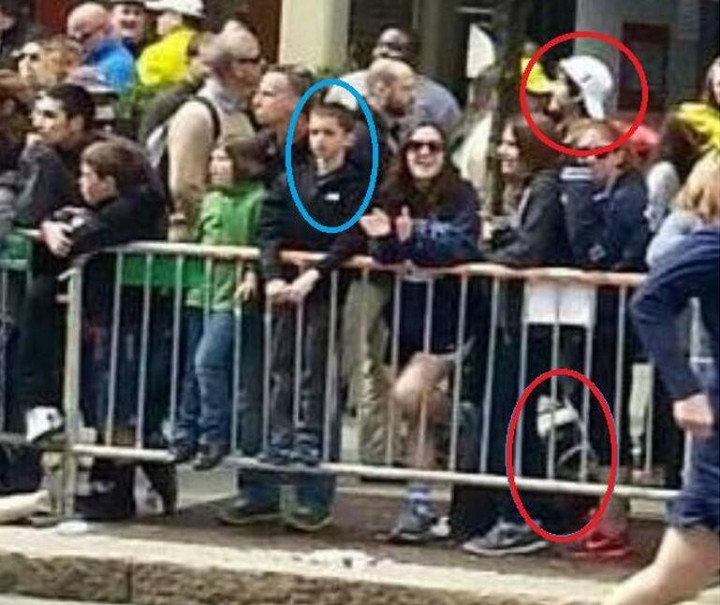 12:13 GMT:More information about the suspect identified as Dzhokhar Tsarnaev by AP, here.
12:10 GMT: Police said they will be conducting a controlled detonation near Charlesgate, were a car was earlier reportedly surrounded.
12:05 GMT: A person that was earlier taken into custody is not suspect one, identified as Dzhokhar A. Tsarnaev by AP. Swat teams are still searching house-to-house for the suspect.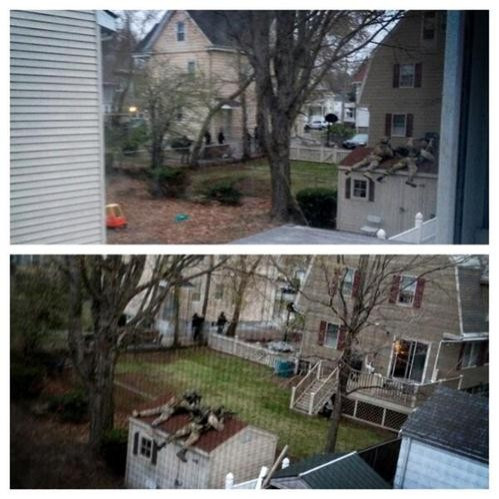 11:59 GMT: According to some media reports the two bombing suspects are brothers.
11:53 GMT: A person named Dzhokhar Tsarnaev won a City of Cambridge Scholarship at Cambridge Rindge and Latin School in 2011.
11:47 GMT: Surviving Boston bomb suspect identified as Dzhokhar A. Tsarnaev, 19, of Cambridge, Massachusetts, AP reported.
11:40 GMT: Boston bomb suspect is from Russia region near Chechnya and lived in US at least 1 year, a source told AP.
11:34 GMT: Police have reportedly surrounded a car near Charlesgate in Boston, as the manhunt for a suspect wanted over the shooting of a police officer and the Boston Marathon Bombings earlier this week continues.
11:21 GMT: A man is in police custody. It has not been confirmed if he is suspect one. Policemen are reportedly yelling "got him," WCVB reported.
11:19 GMT: A photo posted by LetsRun.com depicts a man with a white hat walking away from the site of an explosion at the Boston Marathon earlier this week.
The man seen turning the corner on the left looks like suspect one, who is on the run in Watertown after a shootout with police.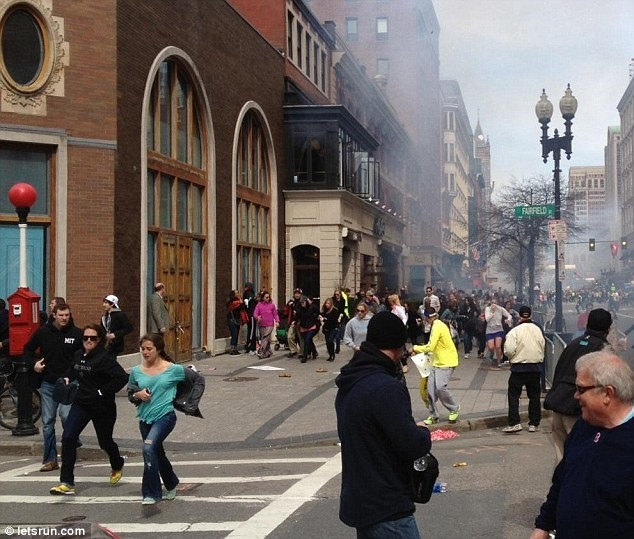 11:07 GMT: All public transport has been suspended in Boston including bus service.
11:05 GMT SWAT teams are out on Laurel Street in Watertown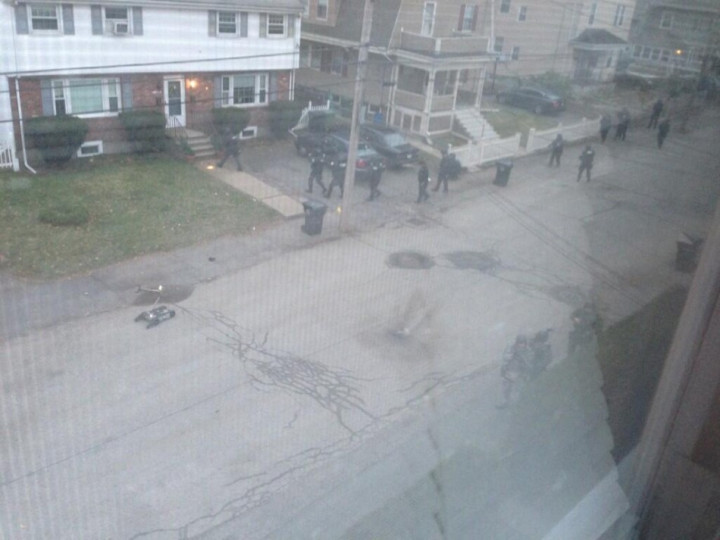 11:00 GMT: "Harvard University is closed due to public safety concerns," the university said.
10:59 GMT: Police are searching house-to-house for the suspect on the run. US President Barack Obama has been briefed on the developments in Watertown overnight.
10:53 GMT: People living in Watertown, Waltham, Belmont, Cambridge, Newton, Allston and Brighton asked to stay home by authorities.
"This is a very serious situation that we are dealing with here," officials said.
10:49 GMT: Police have asked all businesses in the area not to open until situation is resolved.
10:46 GMT Massachusetts Bay Transpiration Authority (MBTA) has suspended all public transportation upon Boston police request as manhunt for man involved in marathon bombing continues.
"If you are at a bus station please go home," officials said.
10:38 GMT: Statement from MIT executive vice president and treasurer Israel Ruiz and chancellor Eric Grimson.
"MIT suffered a tragedy last night: an MIT Police officer was shot and killed on our campus in the line of duty. We have posted a brief news story with further details.
"While the circumstances around the officer's death remain the subject of an active investigation, what is certain is that the officer gave his life to defend the peace of our campus. His sacrifice will never be forgotten by the Institute. We are thinking now of his family, and our hearts are heavy."
Classes for today have been cancelled.
"All employees are encouraged to use their best judgment about whether they are prepared to come in to work today: any absence today will be considered excused. MIT is working now to plan a gathering later today on campus."
10:31 GMT: The patient had multiple gunshot wounds and possible blast injuries, the hospital said. The man was in cardiac arrest upon arrival.
"We give the best care we can to every patient who is brought in," Beth Israel Hospital Dr Dave Schoenfeld said.
10:26 GMT: Beth Israel Hospital said a patient, believed to be suspect one, was brought in "with police guard" at about 1:20am ET, "with multiple injuries". The man was pronounced dead at 1:35am.
10:08 GMT Eyewitness Mike Julakis, who was at the scene of a shootout between police and two suspects in Watertown, said he heard two bombs going off and he could see a huge cloud of smoke.
"It was like a scene from a movie," he told WCVB. "They shot at the black SUV at least one hundred times"
10:03 GMT: Tweet by Boston Police Department @Boston_Police:
"#CommunityAlert: Residents of Watertown reminded 2 stay indoors as search for 2nd continues."
09:58 GMT: Video captures gunfire in Watertown during shootout between police and two suspects. One suspect was killed and one police officer is in critical condition at a local hospital.
09:49 GMT: The police officer wounded in shootout is in critical condition at a local hospital, officials said.
09:47 GMT: Police asking local residents to remain in their home as manhunt is ongoing. Suspect on the run is dangerous and heavily armed.
"If you see something suspicious other than a police officer coming to your door you should call 911 immediately," said Superintendent and Colonel of the Massachusetts State Police Timothy P. Alben.
09:34 GMT: Prosecutor confirmed that the suspect who was shot during a gunfight with police died at hospital
09:32 GMT "This is a terrorist. He has come here to kill," says police official.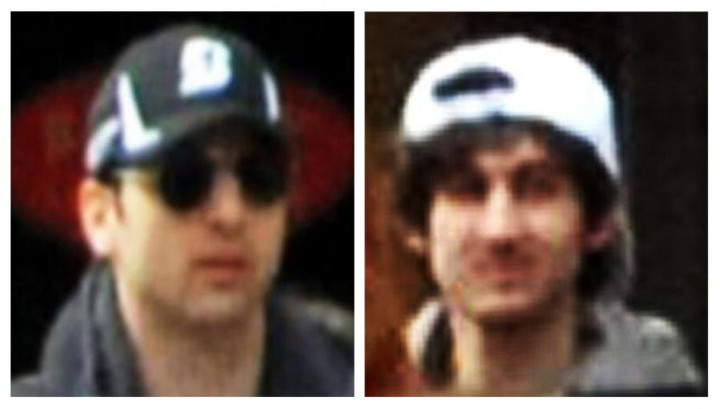 09:30 GMT: Police briefed journalist about the ongoing manhunt.
A robbery took place at a 7Eleven in Cambridge yesterday evening. The picture of one of the suspects earlier released by Boston police was captured at the store during the robbery.
An MIT police officer was shot dead in the aftermath of the robbery.
A carjacking involving a Mercedes SUV was later reported. The car was discovered by police in Watertown.
A shootout between two suspects in the car and police erupted. "Several explosive devices were discharged at police," officials said.
One police officer was wounded. One suspect was struck and taken into custody but is believed to have subsequently died.
The other suspect escaped on foot and is currently on the run.
His description is consistent with that of the suspect wearing a white hat depicted in photos released by FBI in connection with the Boston marathon explosions which killed three people and left several others severely injured.
09:12 GMT: Boston police department tweeted a picture of suspect two: "WANTED: Police Searching for Suspect" the tweet read.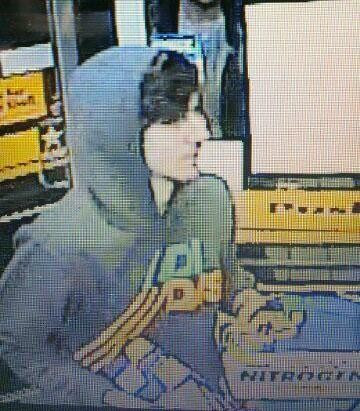 09:03 GMT: police confirm suspect one is dead.
09:00 GMT: a second police officer has reportedly been hit and is now in surgery.
08:58 GMT: Conflicting reports: according to WCVB local television suspect one - black hat - has been killed and suspect two - white hat - is on the run. ABC reports one in custody and one on the run.
08:52 GMT: The two young men believed to be fully armed with explosives and gun.