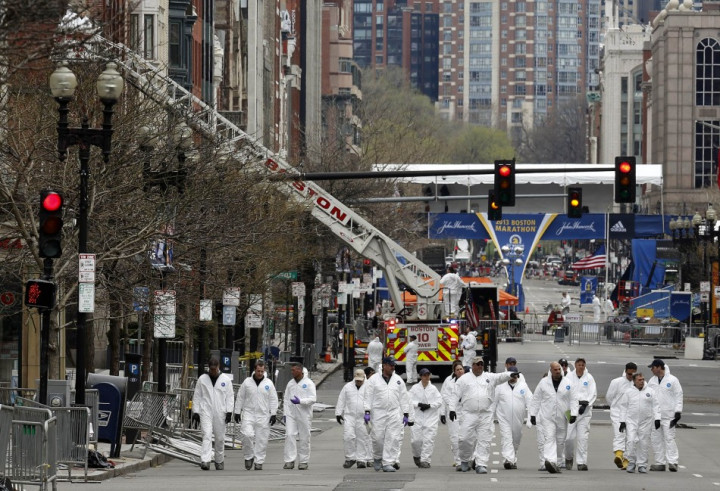 US prosecutors are reportedly considering framing terrorism charges against Dzhokhar Tsarnaev, the surviving suspect in the Boston marathon explosions which killed three people and injured several others.
The teenager, who was captured by the US police after gunfire and explosions, was later taken to hospital and is said to be in serious condition.
Investigators are waiting to grill the 19-year-old as they seek the motive for the attack. The suspect has been kept in the hospital under a heavy security blanket.
President Barack Obama has held talks with top security advisers over the latest developments in the probe. He had pledged to find out whether the perpetrators received any help.
Tsarnaev continues to be in serious condition and is unable to speak. "It's serious ... he's not yet able to speak. We have a million questions and those questions need to be answered," Massachusetts Governor Deval Patrick told reporters.
Initial reports indicate that the brothers did not have any connection with terrorist groups but acted on their own.
"From what I know right now, these two acted together and alone. But as far as this little ... group, I think we got our guys," Watertown Police Chief Edward Deveau told CNN.
The authorities are believed to be probing whether the suspects' Chechen background could be a motive for the attack.
Investigators in both the US and Russia are involved in the hunt for any clues which may shed further light on the attack.
While Obama thanked President Vladimir Putin for Russia's cooperation, the Kremlin has pledged to step up its efforts if US officials seek any help.
"As all the circumstances and details get cleared, I think, our intelligence agencies will be in contact," Putin's spokesperson Dmitry Peskov told the state channel Rossia 24. The spokesperson added that Moscow has so far not received any official request from the US.