Bournemouth object to Arsenal interest in Eddie Howe
Chairman Jeff Mostyn says the 38-year-old has 'unfinished business' on the south coast.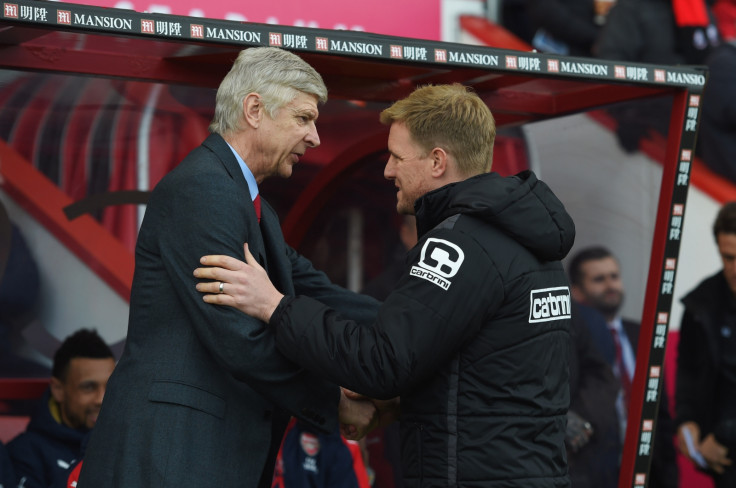 AFC Bournemouth have no intention of allowing manager Eddie Howe to leave for Arsenal, in the wake of reports linking the 38-year-old with becoming the replacement for Arsene Wenger. The Cherries boss is regarded as one of the best emerging coaches in the country but chairman Jeff Mostyn says he has "unfinished business" on the south coast.
The Sun understand the Premier League's youngster manager is being lined up as a potential replacement for Wenger - currently paid £7.5m-a-year - in the summer, should the Frenchman decide against remaining with the Gunners. Majority owner Stan Kroenke will offer Wenger a contract extension, however that has not stopped the club drawing up a shortlist to succeed their legendary coach.
Howe was interviewed for the England job in the summer before the appointment of Sam Allardyce, having taken Bournemouth from League One to the top flight in the space of three seasons. But despite his growing reputation, Arsenal will not be allowed to prise the coach away from the south coast without a fight.
"We have a man of immense talent and any man of talent, whatever business you are in, is always going to be sought after," Vitality Stadium chief Mostyn told Talksport, according to Metro. "We see [interest from Arsenal] very much as a compliment. But Eddie is a Bournemouth boy through and through. He has been with the football club since he was 10.
"There is unfinished business. He wants to ensure that if and when he does move on he will leave a legacy. A legacy that will ensure AFC Bournemouth are a Premier League side, not a side that is aspiring to retain its position every year. He has made it clear that over the next two or three years hopefully we can establish ourselves as a thoroughbred Premier League side and only then would he consider moving on."
Howe an 'outside' for Gunners job
Wenger recently admitted he was "scared" at the prospect of retiring but is yet to make a decision over whether he will remain at Arsenal beyond his 20<sup>th campaign. The 66-year-old is the most successful foreign coach in English football history but recent seasons have seen him come in for criticism over his approach in the transfer market and his brittle tactics.
Former midfielder Ray Parlour believes Wenger's prowess in the market still holds some weight and makes Howe an outsider for the position should it become available – with Atletico Madrid's Diego Simeone considered the main contender.
"I don't think [Howe] would know enough about big foreign players to attract them, if I'm honest," he told Talksport. "He is doing a wonderful job at Bournemouth and he could be a manager in the future for Arsenal, but I think it is a little bit too soon for him at the moment.
"Simeone, whether he would want to move from La Liga we don't know, but I'm sure he would love to test himself in the Premier League against the likes of Guardiola, Jose Mourinho, Klopp and managers like that. He would be the favourite if it came to Arsenal changing the manager at the end of the season."
© Copyright IBTimes 2023. All rights reserved.