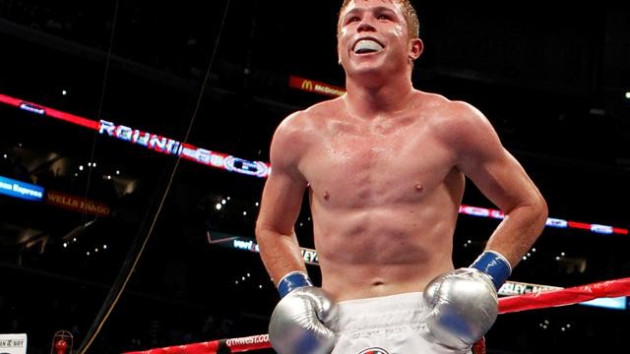 Undefeated light middleweight champion Saul Alvarez is hoping that he will be able to secure a blockbuster bout with Floyd Mayweather on the popular Mexican holiday of Cinco de Mayo.
The 22-year-old is well on the way to gaining legendary status and is already regarded as a hero in his native Mexico after securing an impressive record which includes 41 wins, with 30 coming inside the distance.
Having defeated faded former champions Kermit Cintron and Shane Mosley, it seems Alvarez is now hoping to secure Mayweather, still considered by many to be the best pound-for-pound fighter in the world.
Mayweather has not been in the ring since he secured an impressive one-sided win over Miguel Cotto to secure the WBA Super World light middleweight title in May, but is keen to return to action early in 2013.
El Canelo believes that Mayweather would prefer a ring return in February, but he hopes to convince him to wait until May 5 when he would be guaranteed a hero's welcome as part of the Cinco de Mayo celebrations.
"Currently we are negotiating with Floyd Mayweather," Alvarez told boxingscene.com. "And is for one reason or another Floyd does not want [to fight], then we'll opt for another option.
"The problem with Mayweather is that he wants to a make a fight in February and then wait until September and I want to fight in May. Hopefully he will want to fight in May, and we'll have had almost the same amount of time of inactivity."
Mayweather has previously fought on May 5 in front of a partisan crowd when he overcame Cotto at the MGM Grand in Las Vegas when there were thousands of Pueerto Rican fans in attendance.
He also fought on Cinco de Mayo in one of his most memorable bouts when he took on legendary fighter, and now the promoter of Alvarez, Oscar de la Hoya. Mayweather even came to the ring wearing traditional Mexican colours and sporting a sombrero as he embraced the jeers of the partisan crowd.
De La Hoya lost the contest on points and has now been asked by Alvarez to secure a bout with the outspoken Mayweather. Should the bout be made then it is sure to be one of the fights of the year, with two undefeated fighters who both have huge followings.