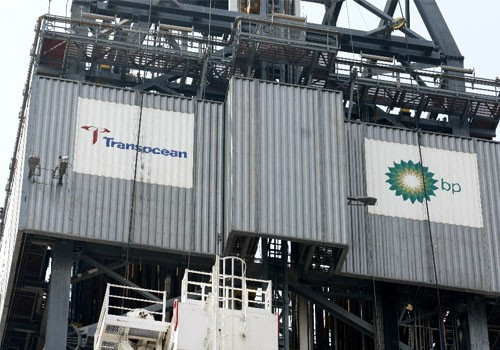 Transocean ltd, the owners of the deep water horizon drilling rig that was destroyed by the explosion before the initial Gulf of Mexico oil spill has claimed that the full responsibility for the disaster should be placed on BP's shoulders. Transocean ltd have said in a report published today that the initial disaster that killed eleven rig men and the subsequent oil spill stemmed from faulty decision making on the part of BP.
In the two weeks preceding April 2010 blowout, Transocean have accused British Petroleum of changing its plans for the Macondo well five times over concerns that the 'rock formation was growing unstable,' with Transocean claiming that the 'geological window' for safe drilling was narrowing. The company have accused BP of skimping on heavy drilling fluids needed to hold back high pressures natural gas surrounding the hole more than a mile beneath the Gulf of Mexico. Added to this, BP has been accused of employing risky well designs that led to both the initial disaster and the subsequent oil spill.
The report published by Transocean is the latest in a long battle between the two companies. This latest salvo between Transocean and BP is the latest report to blame each other for the disaster. Neither company has been willing thus far to accept responsibility for the oil spill which devastated the Gulf of Mexico, killed eleven rig members and deposited four million barrels of oil into the Gulf of Mexico.
Investors should take any internal report a company puts outs with a huge grain of salt," Pavel Molchanov, an analyst at Raymond James & Associates Inc. in Houston, said today in a telephone interview. "What companies say about each other should be seen as inherently biased. That's not to say their conclusions are necessarily wrong, but the market isn't going to place a lot of credibility in them.'
Tony Odone, a BP spokesman has refused to comment on the report but Chief Executive Officer, Robert Dudley has pointed to the fact that another sub-contractor, Weatherford International, who provided the pressure control valves and equipment used in the well, have agreed to pay $75m; showing that BP can't be help solely responsible for the disaster. With BP facing billions of dollars in law suits and environment fines, have said that it holds Transocean responsible along with Halliburton and Weatherford.
The National Commission of the BP Deep-water Horizon oil spill said in January that bad decisions by BP, Transocean along with government oversights were to blame for the disaster. Transocean rose 28 cents to $62.17 at 9:32 a.m. in New York Stock Exchange composite trading. BP fell 2 pence to 443.7 pence at 2:32 p.m. on the London Stock Exchange.