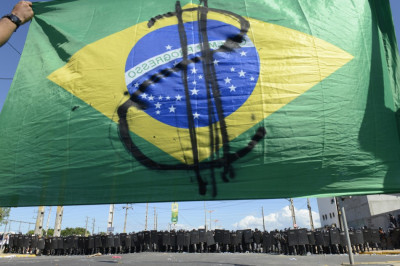 Fifa, football's governing body, has said it has no plans to halt the Confederations Cup in Brazil despite the wave of mass protests rocking the country.
After news that one demonstrator died when a car ploughed into a protest crowd in Sao Paulo, Brazilian president Dilma Rousseff called for an emergency cabinet meeting to discuss the spreading unrest that has seen a million people protest in 100 cities. A 51-year-old woman also reportedly died of heart failure amid protests in the northern city of Belem.
Some have called for a boycott of the 2014 World Cup. They have accused the government of spending billions of dollars on the prestige event while continuing to neglect social and public services. By November, the cost of the World cup had risen to $13bn (£8.3bn).
Stadiums where Confederations Cup games - seen as a dry run for the World Cup - are scheduled have become the site of major rallies and security forces have been deployed in five major cities where the competition is being played.
In response to speculation that the competition might be cancelled, Fifa said: "Neither Fifa nor the LOC [local organising committee] have ever discussed any such possibility."
Fifa president Sepp Blatter has urged protesters not to "use football to make their demands heard".
Rio de Janeiro is also due to host the Olympic and Paralympics games in 2016. Some 300,000 people have protested across the city and police fired teargas and rubber bullets.
Demonstrations have been largely peaceful but riot police have scuffled with some protesters and looters in several cities.
"I believe that the great majority of the protesters are not taking part in this violence and are instead looking to improve Brazil's democracy via legitimate forms of protest," said foreign Minister Antonio Patriota, as police struggled to keep hundreds of protesters from invading the ministerial palace.
Protests erupted after a hike in public transport fares was announced in Sao Paulo and Rio de Janeiro. Even though a number of transport authorities have since backed down over the fare rises, the rallies have continued, as demonstrators have raised the stakes to demand proper investment in education and healthcare.