Brazil's top court has rejected a government request to delay impeachment proceedings against President Dilma Rousseff. The Supreme Court's ruling gives the go-ahead to the lower house of Congress to hold a vote on whether or not to prosecute the embattled Latin American leader.
In an extraordinary session, which went on for more than seven hours, a majority of judges ruled against the government's plea for an injunction on impeachment actions. Chief Justice Ricardo Lewandowski said "exceptional situations require exceptional measures" while referring to the swiftness in which the verdict was pronounced. Of the 10 justices, eight voted against the president.
Rousseff faces an impeachment vote on Sunday (17 April) but a debate on the matter at the Chamber of Deputies is set to begin on 15 April. If two thirds of the 513 lawmakers vote in favour of impeaching Rousseff, then the issue will be taken up by the Senate. The impeachment proceedings are taking place over accusations that she fiddled with the government accounts in 2014, just before the elections, in order to make the economy appear to be brighter than what it was.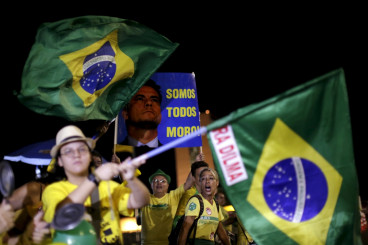 The court's verdict is the latest in a series of setbacks for Rousseff in the last week, which witnessed key allies deserting her. Rousseff called the latest acts a political "coup" engineered by her opponents.
Hundreds of thousands of both pro- and anti-Rousseff campaigners are expected to convene outside Congress in the run-up to the lower house voting. Protesters have already gathered outside the building and troops are expected to be deployed in the next few days.