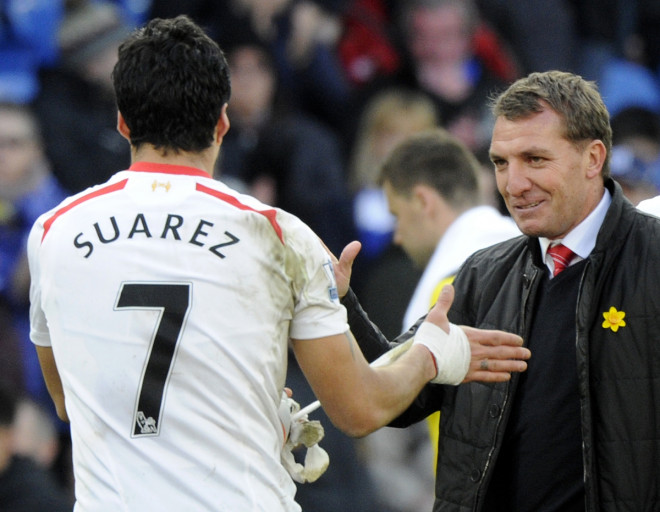 Liverpool manager Brendan Rodgers believes Luis Suarez is heading towards being a player worth £100m in the transfer market.
The Uruguayan international has bagged 28 goals and managed 11 assists from 26 league appearances this season. The former Swansea boss is keen on keeping Suarez at Anfield and has no intention of letting the Reds' star striker leave the club in the summer.
However, Rodgers claims the 27-year-old is on par with Real Madrid star Cristiano Ronaldo and Barcelona's Lionel Messi.
Based on Suarez's recent performances, the Liverpool manager is confident that the former Ajax man would break the transfer record fee of £80m, which Madrid paid to Manchester United in 2009, on the lines of Gareth Bale's £85m move from Tottenham Hotspur to the Spanish capital club last summer.
"He is certainly heading towards that [nearing the £100m bracket]. If you look at the top people in the world, the Ronaldos, the Messis, those who have been doing it for five or six years, he would be right at that level," the Mirror quoted Rodgers as saying.
"Luis is certainly on his way towards that. His consistency has been phenomenal and what you see now is a more mature player. He is a world-class talent. Things evolve and times change. Time will tell."
"That is not something even to think about [allowing Suarez to leave Liverpool]," the Liverpool manager stressed.
Suarez was strongly linked with a move away from Liverpool after the striker publicly expressed his desire to leave the club last summer. However, last December, he ended the speculation surrounding his future by signing a new five-year deal.
Despite signing an extension till 2018, Suarez has been linked with a move to Manchester City in the summer. However, the Uruguayan striker is reportedly keen on leaving England at the end of the season.
Meanwhile, Liverpool host Tim Sherwood is in the league tie on Sunday. A victory over the north London club could see them climb to the top of the table after Chelsea and City failed to register a win in their respective league fixtures.