The UK's new prime minister has revealed that she wants to establish a "UK approach" to negotiations with Brussels before triggering Article 50 of Lisbon Treaty, the mechanism for Britain to exit the EU. Theresa May made the comments after meeting Scottish First Minister Nicola Sturgeon in Edinburgh this afternoon (15 July).
The Conservative premier and Remain campaigner, who declared "Brexit means Brexit" after being appointed Tory leader, told British broadcasters: "I'm willing to listen to options and I've been very clear with the first minister today that I want the Scottish government to be fully engaged in our discussions.
"I have already said that I won't be triggering Article 50 until I think that we have a UK approach and objectives for negotiations – I think it is important that we establish that before we trigger Article 50."
Sturgeon claimed the pair had agreed that Scottish government officials would be "very closely" involved in the discussions with the EU, while warning that the option of a second independence referendum was "on the table" after Scotland voted Remain at the 23 June ballot.
The meeting was the first between the two top female politicians since May took office on Wednesday. Speaking ahead of her visit north, May stressed her commitment to the union. "I believe with all my heart in the United Kingdom – the precious bond between England, Scotland, Wales and Northern Ireland," she declared.
"This visit to Scotland is my first as prime minister and I'm coming here to show my commitment to preserving this special union that has endured for centuries.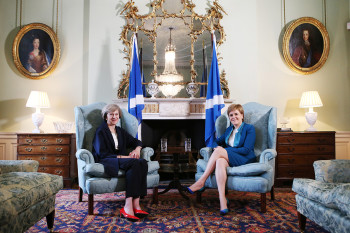 "And I want to say something else to the people of Scotland too: the government I lead will always be on your side. Every decision we take, every policy we take forward, we will stand up for you and your family – not the rich, the mighty or the powerful.
"That's because I believe in a union, not just between the nations of the United Kingdom, but between all of our citizens. Whether it's reforming the economy or strengthening our society, we are going to build a better Britain and a nation that works for everyone – not just the privileged few."