The pound suffered the third-biggest one-day decline of any currency in the world over the past 40 years on Friday (24 June), after Britain voted to leave the European Union.
The UK currency tumbled to its lowest level since 1975 after the Leave campaign secured a 52% to 48% win in the EU referendum, which subsequently sent global markets nosediving. The slump was second only to the that caused by the Swiss central bank's unexpected decision to lift Switzerland's currency peg in January 2015 and by the turmoil that hit the Japanese yen during the 1973 oil crisis.
"The word 'unprecedented' is often used too much, and people often reach for the hyperbole," said Steven Major, head of global rates strategy at HSBC. "But this is truly unprecedented."
Economists believe Thursday's rally, which was prompted by belief Britain would vote to remain within the then 28-country bloc, exacerbated Friday's slump.
"The fact that markets were positioned so wrongly has contributed to this morning's bloodbath," said Michael Hewson, chief market analyst at CMC Markets.
In a remarkable turnaround, the pound tumbled from a six-month high of $1.5000 to a 31-year low of $1.3228 in the space of a few hours. The feel-good factor, however, proved to be short-lived once the votes started trickling in and bookmakers and economists were forced to swiftly revise their predictions.
Matthew Shaddick, the head of political betting at Ladbrokes, admitted the bookmakers had got their forecasts wrong and warned they could do so again, given the betting odds are influenced by the value of bets rather than by the volume.
"I think there's something to be considered in the fact that the most affluent sections of society were generally behind Remain," he said.
"Maybe there just aren't enough dispassionate investors out there to correct that possible bias, even in a multimillion pound market like the referendum."
He added the majority of players in the market were actually backing Leave, but that did not affect the prices.
"All that counts is the amounts of money," he said. "One £10,000 bet counts the same as 10,000 separate £1 bets."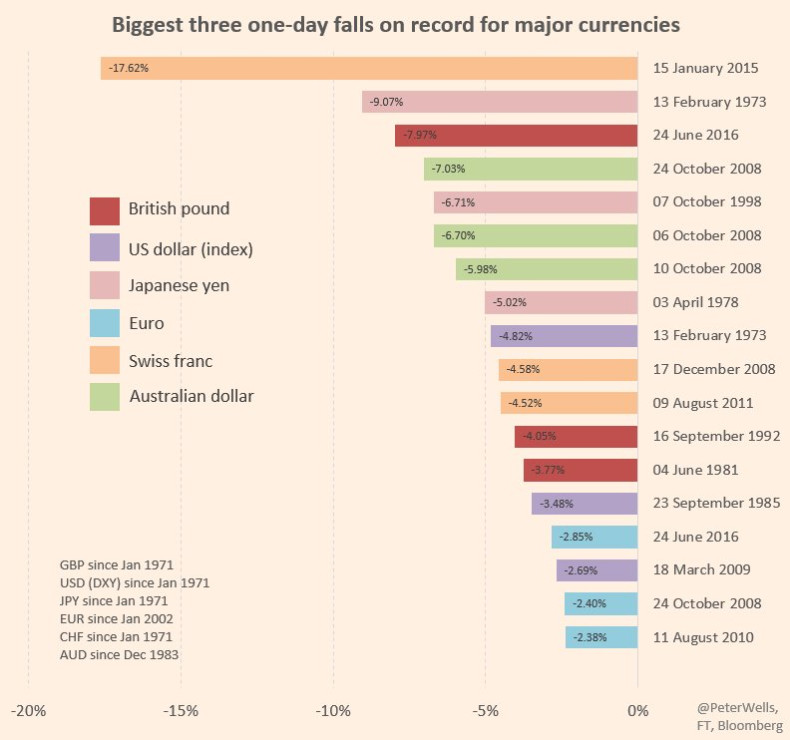 Analysts had warned a Brexit vote would prompt a sharp decline, but the plunge surprised even the most pessimistic of traders.
James Stanton, deVere Group's head of foreign exchange, said: "The Brexit victory has dragged the pound down, as was expected, but the scale of the drop has been a shock."
" This news was always going to create a huge panic sell-off and bearing in mind the wider impact this will have on the euro, many sensible investors will be seeking to look to cash in on a Brexit-battered pound."