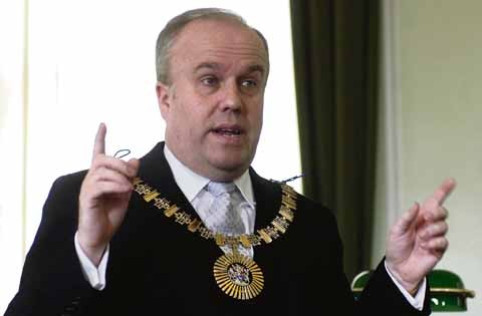 One of Boris Johnson's former close aides is in hot water for abusing two women in the public gallery as "old hags" at a council meeting.
Coleman, a controversial and divisive figure during his time on the London Assembly until he lost his seat at the May elections, may face an investigation into charges of abuse. He was filmed at a Barnet Council meeting calling two hecklers "sad, mad and bad - a couple of old hags in the gallery".
The leader of the Labour group on the council has lodged a formal complaint.
Jeers of disapproval greeted his "hag"' jibe but Coleman just responded by grinning. The mayor, Simon Schama, spent minutes trying to restore order:
Coleman refused to apologise despite pleas from Schama.
The author of prominent local left-wing blog "Broken Barnet" Theresa Musgrove called Coleman's comment offensive on many levels.
"Brian Coleman's behaviour was reprehensible," she said. "To refer to residents as sad, mad and bad is simply appalling. To use the phrase 'a couple of old hags' was outrageous, sexist, ageist and deeply offensive."
Labour group leader Alison Moore said: "As a woman I found the reference he made to two female members of the public utterly offensive."
But Schama defended Coleman. "Sometimes during council meetings the public gallery can become quite vociferous and this was the case [here]," he said.
"However, Cllr Coleman is a very experienced politician and makes his own mind up as to what he will say. I gave him the chance to apologise during the meeting but he declined."
A Barnet council spokesman said: "Complaints have been received and are being processed".
It has been a colourful few months for Coleman who has faced two disciplinary hearings for alleged misdemeanours in nine months.
He used to lead the London fire and emergency planning committee at City Hall and was regularly pictured close to Johnson