Brian Cowen - A Taoiseach for all seasons?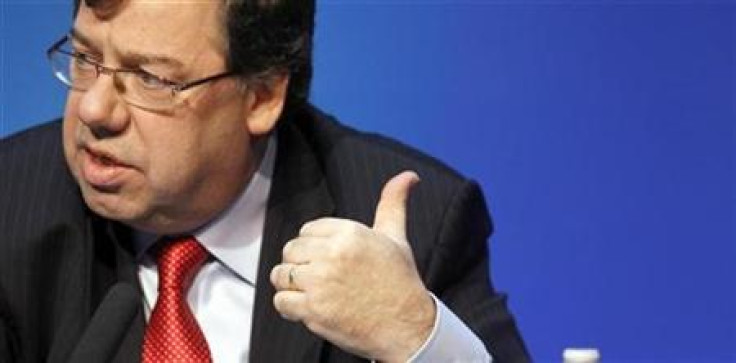 If a week is a long time in politics, then Brian Cowen must be wishing that the relatively short time remaining between now and the next general election in Ireland feels like a decade to the electorate. With the latest polls showing his Fianna Fáil Party's ratings to be around 13 per cent after a lost by-election in Donegal and the first stage of an austerity Budget being passed on 07 December 2010, the Party needs all the time it can get to restore its fortunes.
The Party's opinion poll ratings are in poor shape but Mr Cowen's are dire. The same Red C poll, showed his approval amongst Irish voters at eight per cent. Mr Cowen is insistent that he will fight the coming election expected early in 2011 and has, as yet, no intention of standing down so as to let another leader appeal to the electorate.
In so doing he is taking a risk that the Irish will thank him for the good times when the country could boast one of the world's highest living standards and forgive him for any part in the subsequent banking and property meltdown since 2008. Regarding that very high living standard, Mr Cowen recently conceded "our wealth didn't justify it".
Brian Cowen took over as Taoiseach/Prime Minister in 2008. Before this he had been Ireland's Finance Minister from 2004 till his appointment as PM in 2008. He is particularly remembered for his 2007 Budget being one of the most generous giveaways since the founding of the Irish Republic!
The current Finance Minister, Brian Lenihan, told ITN News last week: "...serious mistakes were made prior to 2008, and I accept that..." Doesn't sound like a ringing endorsement of his boss!
Most will now be aware of the great surge in property values, both housing and commercial, that spearheaded Irish bank lending between 1997 and 2007. Due to the collapse of the property and banking sectors the Irish Treasury has lost some 36 per cent of its revenues since 2007 and in order to restructure its banking sector has been forced to get an EU/IMF bailout worth €85 billion.
A condition of getting this support package was the imposition of further austerity measures needed to be taken with the aim of reducing Ireland's budget deficit to 9.1 per cent of GDP in 2011. The country's four-year €15 billion savings plan was approved with the proviso that 40 per cent - €6 billion - had to be made next year. Roughly €4 billion will be cut from public spending and €2 billion raised through new taxes or tax increases.
Measures to be taken include cuts in Child, Unemployment and other welfare benefits; a scheme to include more workers in the tax system and a revision of the tax bands; the abolition of certain tax exemptions; a 10 per cent cut in the pay of all new workers in the public sector; and cuts in the salaries of top civil servants and pensioners. This last will see Mr Cowen's salary reduce to an annual €214,187, not exactly the breadline!
There is also to be a cut in the minimum pay to €7.65 per hour, which is expected to affect about 52,000 workers. This by international standards is still pretty generous. Under the Fair Minimum Wage act, signed into law on 25 May 2007, the minimum hourly pay in the USA is €5.49 with quite a few exemptions. For example waiting staff (who are expected to get tips) in Arizona will get €3.30 come 01 January 2011; €2.99 in Vermont; and €1.99 in Massachusetts. In the UK the minimum is just over €7 per hour.
Market reaction to these austerity measures has been mixed. Ireland's 10 Year Bond Rate at the end of November reached 9.472 at one stage but after encouraging words from European Central Bank President, Jean-Claude Trichet this had reduced to 8.5 per cent on 03 December 2010 and as of 13 December 2010 stood at 8.12 per cent.
Not so good news came on 09 December 2010 when Fitch downgraded Ireland's credit rating from A+ to BBB+ with a stable outlook. Bloomberg quoted Fitch's Chris Price as saying: "Ireland's finances have badly deteriorated amid sagging tax collections and a runaway bank-bailout."
Yet not all is lost for Mr Cowen and his Government, Independent Joe Behan told state broadcaster RTÉ Radio on Monday 13 December 2010: "I'm very, very sceptical that the opposition can negotiate any kind of better deal."
For Ireland, it might well be a case of "better the devil you know"!
© Copyright IBTimes 2023. All rights reserved.